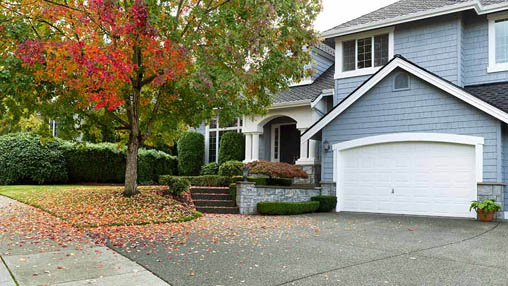 Tell me more!
I'm looking to …
Earn cash back
after close!
With Home Connect, you could earn $350 to $9,500 cash back after close.
Autumn is a good time (and potentially your last chance) to review, repair and remediate any home issues that could end up breaking the bank account once winter arrives. Below we've listed some expensive mistakes homeowners will want to avoid making every fall. Set yourself up for success by putting some time (and a little cash) aside to clean up your household act before the harsh weather sets in.
Here's a rundown of potential financial follies to avoid in the fall:
1. Neglecting gutters — Both gutters and downspouts should be cleaned of last year's debris and this year's autumn leaves before the snow and rains arrive. Gutters clogged with leaves can lead to water invading your roof and exterior walls. Downspouts should direct water to flow away from the house, as water that isn't diverted can become a source of cracked driveways and ruined foundations (foundation repair could cost up to $11,200). In cold climates, gutters and downspouts can lead to ice dams, which can cause costly water damage to a home's interior. Loose gutters can also tear free from the weight of snow and ice.
2. Overlooking windows — Be sure to check out door and window frames for damage or gaps that can result in air leakage. Depending on your location, you may also want to take down your window screens and put up storm windows before the frost arrives, which can help to cut heating costs. Heat gain and loss through windows takes up 25–30 percent of residential heating and cooling energy use, according to the U.S. Department of Energy. Consider adding weather stripping, double-paned or Energy Star-approved windows, caulking, or heavy curtains to prevent heated air from escaping. Not doing so can result in an increase in your energy bills, not to mention a decrease in overall comfort in your home. Caulking should be done before freezing temperatures set in, says Tom Kraeutler, host of syndicated radio show The Money Pit.
3. Ignoring the chimney — Before kindling a cozy autumn fire, have your chimney examined and repaired, if necessary. Otherwise you may be risking a home-destroying fire, chimney collapse or carbon monoxide poisoning, according to Tom Kraeutler. However, hiring the wrong chimney sweep can also be a financial disaster, he points out, so be sure to research any prospective contractor's reviews and reputation first.
4. Not checking the roof — Ensure the roof flashing (which covers gaps on roofs and near chimneys ) is solid and won't permit water intrusion. And are any roof shingles missing? Now is the time to check — not after your upstairs bedroom becomes a waterlogged mess, or a leaky roof ruins your drywall. According to Homeadvisor.com, the cost of repairing water damage could run up to $8,000, while roof repairs only top out at $4,000 in extreme cases.
5. Skipping sealing — Autumn is the perfect time to seal your driveway and make any needed repairs. You'll want to do this before freezing temps hit, because afterwards sealants may not work well. In some regions, winter will also bring additional exposure from deicing agents like salt, which are "corrosive on your driveway," Kraeutler says, and could lead to further cracking and deterioration. He points out that driveway sealing is often a DIY job.
6. Hesitating on the HVAC — Preventative maintenance or energy-efficient upgrades will lower your heating bills, spare you expensive emergency calls, and increase your heating system's lifespan. And if you're considering selling your house in fall or winter, you'll want to show off a functional heating system to buyers.
7. Procrastinating on purchases — Sure, you can pretend winter isn't going to happen (maybe if you live in sunny Southern California), but most of us need shovels, salt for deicing the sidewalk (and avoiding costly lawsuits), ice scrapers, and possibly even a snowblower. If you have a snowblower, check out these tips from Consumer Reports on how to make it winter-ready before the first snow.
8. Putting off sale prep until spring — According to Consumer Reports, a host of issues can kill an upcoming home sale, including cracks in the foundation and hidden water damage. Don't let problems start or worsen in the next six months — instead, address potential concerns proactively now, while there's time.
9. Falling for fall scams — Your financial security may be at risk if you open your wallet for a scam targeting homeowners, such as lending deals a contractor might offer for making autumn upgrades. If you need to pay for home maintenance, remodeling or repairs, consider instead leveraging the equity in your home with a Cash-Out Refinance.
By avoiding these expensive autumn mistakes, you'll save money - which will hopefully mean having more dough for the upcoming holidays, or perhaps even a trip in the new year.
Want to learn about how you might be able to access your home equity to fund money-saving home repairs or improvements? Talk to a Pennymac loan specialist to explore your options.
Share
Categories