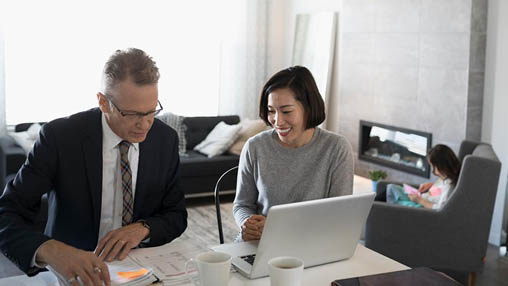 Tell me more!
I'm looking to …
Earn cash back
after close!
With Home Connect, you could earn $350 to $9,500 cash back after close.
Medicine focuses on protecting your health in order to avoid illness – and an annual physical is key to see how your body is performing.
In a similar vein (but without the bloodwork), it's wise to conduct an annual financial check-up to ensure solid fiscal fitness. Here are vitals to screen, prod and examine, with the following questions:
What's your net worth? Use an app like Mint.com (compatible with your Pennymac account) or Personal Capital to analyze accounts and historical savings/spending patterns, suggests certified financial planner Roger Ma, of Lifelaidout.com.
"Ask yourself where am I financially, where's my money, am I saving money on a monthly basis or breaking even? How financially fit am I?,'' he says. Review debts and interest rates of mortgages, student loans and credit card balances.
Then, calculate your net worth: your assets minus liabilities, Ma suggests, to assess the state of your current financial-health systems.
Do you know your credit history? Order a free report from one of the three nationwide credit companies (TransUnion, Equifax, Experian). Do so every three or four months, Ma suggests, and carefully look for signs of fraud or accidental reporting errors. For example, the report might list a bank account you closed long ago; if so, notify the reporting company with updated information.
Also, observe good security hygiene – change passwords for financial accounts (and ensure each is unique, and not "123password!"). A hacked account can lead to credit vulnerability.
Is your emergency fund solid? Perform a "stress test" on your finances, much like a physician's heart-stress test. Is there enough ready cash in your account for three to six months of emergency expenses?
If not, formulate a plan to save for your rainy-day fund, in case you face unplanned job loss or an urgent move. "Your emergency-fund needs to depend not only your job stability, but what you're looking to do with your career," Ma says. If you need to make a major job switch that takes time and networking or another transition, "you might need a much larger emergency fund," he says.
How are your retirement investment vitals? "Take a bird's eye look at your accounts," Ma suggests, such as consolidating retirement accounts, and reviewing annual fees or other management expenses.
Review your retirement accounts for stock, mutual fund or other investment performances and amounts; make sure you can access your account numbers, logins and passwords. Are you currently on track for retirement at your target age, or do your accounts require some fine-tuning? Are you contributing the maximum possible to your 401(k)?
Are you using the new tax-law tools? Tax law has changed dramatically in the past year. Use a tool like the IRS's Withholding Calculator to find out how the new tax law will affect next year's return. Then, see if your W2 withholdings are on track, make early tax payments, and prepare for April 15 in advance – after all, procrastinators often pay fines, which is money best put to use in other ways.
Is your insurance adequate? Review your insurance policies, including auto, health and life insurance, as circumstances and aging can change deductibles and other numbers. Do you have enough long-term disability to sustain if necessary?
While doing so, vaccinate (metaphorically) against worst-case scenarios with disaster planning, which reduces exposure and stress for everyone involved, whether a spouse, children or extended family. Draft a will or other estate planning documents, if you haven't done so already, and if you have, make sure beneficiary information is current.
Are you an informed personal-finance consumer? Ma suggests the title "I Will Teach You to Be Rich," by blogger Ramit Sethi, as a "good basic book." He also recommends "The Bogleheads' Guide to Investing" by Taylor Larimore and Mel Lindauer; the book is a companion to the Bogleheads Wiki, a crowdsourced personal-finance resource.
By asking these preventative-care questions, you'll be well on your way to a happy and healthy financial future.
The views, information, or opinions expressed in this blog do not necessarily represent those of PennyMac Loan Services, LLC and its employees.
Share
Categories