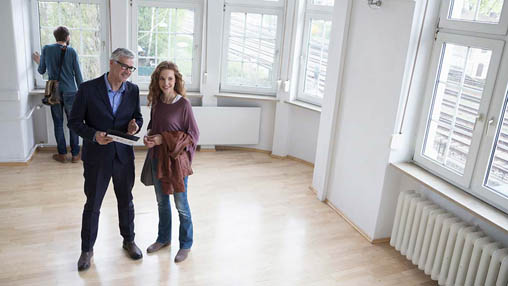 Tell me more!
I'm looking to …
Earn cash back
after close!
With Home Connect, you could earn $350 to $9,500 cash back after close.
Whether you are buying or selling a home, your real estate agent will be your partner through one of the most significant transactions of your life. Finding the right agent should involve careful planning and research, but many of us just don't know where to start. Here are 12 questions that will help you avoid the bad actors in your search for a great real estate agent.
1.) How long have you been working as a real estate agent?
There is no required college degree or bar exam for real estate agents, and as a result, many of them learn on the job. Experienced real estate agents who have completed many successful sales can offer you an enormous amount of industry knowledge and key practical advice.
This does not mean that you should avoid new agents at all costs — just ask them a few more questions about their journey. Many of them have had great training and even specialized experience working for seasoned Realtors®. New agents can also often deliver high quality, personalized service as a result of having fewer clients.
Amanda Hagley is a Content Specialist at AceableAgent, an online and mobile app real estate education provider based in Austin, TX. She encourages buyers to make sure that the agent they choose has the necessary experience to guide them through anything they may encounter.
Finding an agent who really knows their stuff can be the difference between a stressful home buying/selling situation and a smooth one. Find an agent who really understands the different contracts you need and how to properly fill them out, the legal obligations you'll run into, and the financial side of the business. If you're selling a property, you'll also want to make sure your agent is in-the-know on the latest and most effective marketing tactics in the industry.
2.) What percentage of your clients are buyers? How many are sellers?
Many agents specialize by working either with homebuyers or with those who have homes for sale. It's good to look for an agent who has experience in the particular part of the process you are currently involved in, but an agent who does both can offer additional valuable input. Even if you are selling your home, the agent's experience in working with homebuyers will help them get your property sold. Furthermore, if you are selling your home and immediately buying another, it can be nice to work with one agent through that entire process.
Find out whether you should work with a buyer's agent for your upcoming house hunt, or if you're better off doing it alone.
3.) Which neighborhoods do you primarily work in? How many homes have you closed in my neighborhood?
Many home buying and selling markets contain micro markets driven by the features of individual neighborhoods. Understanding unique issues like the schools, historic district designations, development plans, and even traffic patterns is essential. Finding an agent with experience in the areas where you live (or want to live) can give you a great advantage and help you make informed decisions.
But just because an agent knows your desired zip code does not mean they have been successfully helping buyers and sellers there. Look for an agent who has a proven record of completing deals in the areas you desire — not just one who aspires to.
Hagley agrees that location matters, and advises buyers to look for an agent who has worked in the area they want to live in.
What area are you looking to buy or sell in? Your best bet is to find an agent who is an expert in the area you're hoping to buy or sell in. If they work in that area regularly, they'll know what the prices should look like, the kind of value you can find in the area, and will have great recommendations for local establishments and services you might be interested in once you get settled.
4.) What marketing tools will you use to help me?
As a seller, one of the most important reasons to hire a real estate agent is to gain access to their marketing expertise. Your agent should be able to tell you about the sales strategies that they use successfully, from traditional tactics like preparing your space for the best sales photographs possible, to new techniques like social media marketing. You may not think that you will need marketing tools as a buyer, but in a competitive market, your agent should have innovative ideas for finding deals, and may even need to help "sell" you, such as in situations with multiple offers.
Shane Lee is a data analyst at RealtyHop, a sales site that identifies smart home investments. Along with data analysis, she partners with numerous brokers and landlords to establish long-lasting and trustworthy relationships. Lee encourages buyers to check out their agent's marketing chops.
Check out the agent's social media pages. Pay attention to the content s/he shares (it usually tells you how knowledgeable they are), and more importantly, if the reviews are legit. Marketing plans and strategies are key. Some [Realtors®] tend to go with the flow, while some others tend to stick to the same planning and strategies. Remember, the strategies and marketing plan should fit YOUR NEEDS. Whoever knows the [most] about marketing wins in real estate!
5.) What is your average list-to-sale ratio?
The list-to-sale ratio is a data point that measures whether homes are selling for more or less than the asking price in a certain market. Knowing this number can provide key insight into the negotiating capabilities of a prospective agent, as well as the trends in the area you are looking to buy or sell in.
To calculate a home's list-to-sale ratio, divide the final sale price by the property's final list price. For example, a home that was listed for $200,000 and sold for $195,000 has a list-to-sale ratio of 97.5; in other words, it sold for 97.5% of the listing price. Homebuyers and homesellers will want to evaluate this metric differently:
Buyer's agents should be able to negotiate a price lower than the list price, excluding very competitive seller's markets. Their list-to-sale rate should be below 100%.
Listing or seller's agents should have higher numbers — as close to 100% as possible. This means that they are often able to sell homes close to or at their full listing prices.
6.) Have you completed many foreclosure or short-sale transactions?
Even if you are not looking at distressed properties, this question is worth asking. In foreclosures and short sales, the process is complicated, and your risks as a buyer are greater. These transactions can be tough: agents who have experience closing complex deals with banks demonstrate strong negotiation and organization skills that will also benefit you in your homebuying journey.
7.) How quickly can you help me view a home that I want to see?
In popular markets, homes can go under contract quickly — sometimes even the same day that they are offered for sale. If you see a new listing that you love, how quickly can your agent accommodate your request for a tour? How much notice do they need? Do your schedules align? Does your agent work full time, or are they only available to help you part time? How many other buyers (or sellers) do they represent?
Lee agrees that buyers need to make sure that their agent will be able to accommodate their day-to-day needs and overall timeline.
Be sure to ask how many people the agent is working with. Real estate agents tend to focus more on clients with expiring agreements, which would be bad for you if you just signed with an agent because you will not be the first on his/her list. You also want to make sure that the agent is not too overwhelmed, so s/he has enough time to do research and build a trusting relationship with you.
8.) How long do you usually work with buyers, from the first viewing to closing?
Few people are able to find their ideal home in only a day or two, and even if they do, the time from contracting an agent to closing the deal can take from a couple of weeks to a couple of months, or potentially even longer. There is no hard rule on how long it should take to buy a home. Different areas can often have their own unique issues that impact the process, but your agent can play a part in how quickly things move. Unless it is common in your market, be wary of agents who offer timelines substantially greater than six months.
9.) How will you keep in touch with me, and how often can I expect updates?
Whether you prefer phone, email, or text, look for an agent that is comfortable using the communication tools you prefer. When it comes time to start making offers, do they have electronic options that make it easy to complete forms from anywhere? Will you have the time you need to review the documents you are signing without feeling rushed or confused?
Also, make your expectations regarding updates clear — many homebuyers and sellers end up being frustrated when their agent does not communicate with them as often as they would prefer.
10.) Do you have a recommended vendors list?
One of the most challenging parts of buying, selling, or owning a home is knowing whom you can trust when you need help. From lenders to inspectors to contractors, a good agent will have a strong network of professionals to help you. Remember that your agent can offer you recommendations but not requirements for those you employ — The Real Estate Settlement Procedures Act (RESPA) grants homebuyers and sellers the right to choose whomever they wish to work with.
11.) What should I avoid in the home buying (or selling) process?
One of the best things your real estate agent can offer you is honesty, and even the occasional disagreement. Whether it is in regard to staging your home before selling it or worrisome inspection findings, you should be able to trust your agent to give you their expert opinion and guide you away from big mistakes before you make them.
Brenda Di Bari started her career as a fashion stylist before she turned her eye for design to the real estate industry. She has opened multiple brokerages in Miami and New York City, and has learned that sharing an honest connection is an essential part of working with a Realtor®.
It is important to understand that selecting a real estate agent to work with is much like entering a relationship. You have to feel a connection with the person and if that personal chemistry isn't there keep looking, regardless of their resume. There's no magic number of agents to interview either, you need to ask the right questions and go with your gut instinct.
If you are selling your home, how do you feel about their assessment of your property? Do they have sound input on ways to maximize your property's curb appeal and market value? If you are buying a home, how deep is their knowledge of the area you wish to buy in? How will they communicate with you and how often?
Finally, have they asked you the right questions and listened regarding your real estate goals? A great agent will be able to repeat your stated goals to you and explain how they will help you achieve them.
12.) What questions do you have for me?
Although you are paying them to perform a service for you, your relationship with your agent should be a true partnership that goes both ways. Look for an agent who has a genuine interest in understanding your plans and goals, and who will take all of your requests and requirements seriously.
As the owner of Kris Lindahl Real Estate, Kris Lindahl offers both commercial and residential services to buyers and sellers in Minnesota and Western Wisconsin. He reminds buyers to look for an agent who takes the time to truly understand their unique situation.
I believe choosing a real estate agent is a very personal endeavor. While referrals are always a great starting point, ultimately no one but the buyer or seller can know for certain who they will feel comfortable with. For this reason, I'm a huge proponent of meeting agents in person to ask questions.
When looking for the right agent, one should leave a meeting feeling like the agent "gets" them and what they're trying to accomplish. It's hard to put into words, but it's honestly not unlike a first date in a way: When you know, you know.
Ready to begin your house hunt?
We studied endlessly for tests in school, and continue to prepare thoughtfully for events like job interviews, but many of us invest little time in researching the person that we will be trusting to guide us through the homebuying or selling process. The right real estate agent can save you time, money, and even large amounts of stress — take the time to ask these questions in order to make the best choice to suit your particular needs.
With the right team, including your Pennymac loan officer, your experience will be as smooth as possible. And homebuyers, if you are ready to move to the next step before your house hunt — a loan pre-approval — contact a Pennymac Loan Officer or get started online today!
The views, information, or opinions expressed in this blog do not necessarily represent those of PennyMac Loan Services, LLC and its employees.
Share
Categories