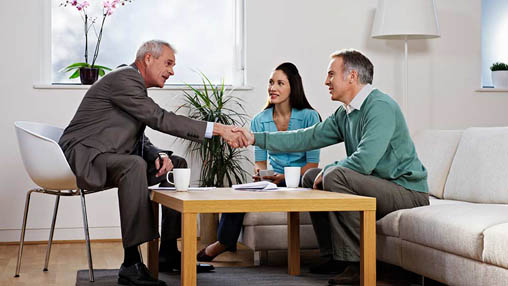 Tell me more!
I'm looking to …
Earn cash back
after close!
With Home Connect, you could earn $350 to $9,500 cash back after close.
If you're having trouble meeting your monthly loan payments and are now facing foreclosure, a short sale may be an option. Let's look at the basics of the short sale process, including how to determine whether you qualify, the pros and cons of short sales and the procedures involved in completing a short sale.
What Is a Short Sale?
A short sale is the process in which a homeowner sells their home for less than what they owe on the mortgage. The mortgage lender permits the sale and may forgive the shortage.
It's important to note that the owner or insurer of your loan may require you to be reviewed for an option that will allow you to remain in your home (e.g. Loan Modification) prior to being reviewed for a short sale. One of our representatives can assist you with options that are available for your specific circumstance.
Short Sales vs. Foreclosures: What's the Difference?
Both short sales and foreclosures are processes designed to resolve situations where homeowners are unable to meet their financial obligations to their mortgage lender, and both result in the loss of the property for the homeowner. However the procedures and financial outcomes differ significantly.
In a short sale, a homeowner in financial distress sells the house to a third party for less than what's owed to the lender. The proceeds from the sale are applied to the mortgage debt, and the lender agrees not to collect any remaining balance from the homeowner.
In a foreclosure, the bank repossesses the home after the homeowner fails to make monthly payments for a certain length of time. The lender then sells the house and, in certain states, can still sue the homeowner for the difference between what the home sold for and the outstanding mortgage debt.
When Is a Short Sale Better Than a Foreclosure?
If you're unable to meet your monthly mortgage payments, the worst thing you can do is nothing, which generally results in the lender initiating a foreclosure against you. A short sale is an alternative process that offers considerable advantages over a foreclosure, including:
Eliminating your debt despite selling your home for less than you owe
Minimizing the impact to your credit score (compared to foreclosure)
Being able to stay in your home until the sale closes
The potential availability of cash relocation incentives
What Are the Disadvantages of a Short Sale?
Although a short sale is generally preferable to foreclosure, these disadvantages are worth considering before making a decision:
You must pre-qualify for a Short Sale before proceeding. The investor of your loan may require you to be reviewed for option that will allow you to remain in your home (e.g. Loan Modification) before you can be reviewed for a Short Sale.
Lienholders still may be able to sue you for deficiency, i.e. the difference between their share of the short sale proceeds and what you owe them.
If a buyer backs out, the short sale process may be delayed until a new buyer is found.
Do I Qualify for a Short Sale?
To qualify for a short sale, you may need to meet each of the three conditions below.
1) Financial hardship
A financial hardship is an unexpected circumstance that hinders your ability to make mortgage payments on time. Some examples of financial hardships include the loss of a job or income, relocation, illness, divorce or death.
2) Financial Insolvency
Insolvency means you are unable to meet your financial obligations as they become due. However, you do not need to be completely out of cash to be considered insolvent. For example, having some cash in the bank for day-to-day living expenses may not disqualify you from obtaining a short sale.
3) A Monthly Deficiency
To determine if you are currently suffering from monthly financial deficiencies, simply add up your monthly expenses and compare that number to your monthly income. If you can't pay your bills, or if it's clear that you will have difficulty doing so in the future, then you likely meet this condition.
Additional Short Sale Documentation Requirements
You may need to submit additional financial documentation based on your loan type. One of our representatives can assist you with options that are available for your specific circumstance.
Understanding the Short Sale Process
While different loan servicers may do things slightly differently from one another, the basic short sale process remains largely the same in most cases. Here's an overview of the standard short sale process.
1) Begin working with your lender. You'll need to provide all your financial documents, as well as details of the hardships that led to your request, and sign a letter authorizing your real estate agent to speak to Pennymac during the process. The investor of your mortgage must approve the short sale transaction.
2) Collaborate with your real estate agent. Together, you'll work to determine your home's fair market value (which can be less than what you owe on the loan). Then, you'll list your home for sale.
3) Your lender reviews any offers. Once an offer has been received, your lender will review it. If the offer is approved, your real estate agent will receive the closing instructions. However, it's important to note that your approval letter will have a deadline. If the buyer backs out or doesn't close before the approval's expiration date, you'll have to start over from square one.
4) Close the deal. You and the buyer will agree on a closing date, the funds will go to your lender, and the matter is considered settled according to the terms of your short sale agreement.
Share
Categories