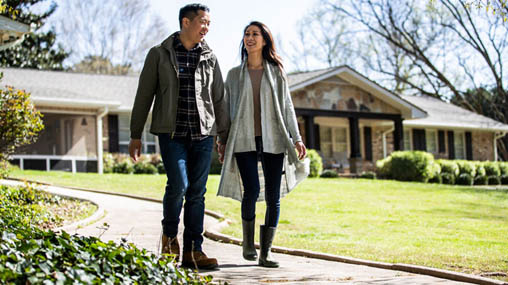 Tell me more!
I'm looking to …
Earn cash back
after close!
With Home Connect, you could earn $350 to $9,500 cash back after close.
First Step to Homebuying: Pre-Qualify for a Home Loan
Purchasing a home can be an exciting journey. Of course, before you get to experience the joy of unlocking your front door for the very first time, there are some tasks that you'll need to take care of along the way. For most homebuyers, this includes securing a home loan. As you prepare to purchase a mortgage, one of your first steps might be to pre-qualify for a home loan.
What Does It Mean to Pre-Qualify for a Loan?
Mortgage pre-qualification involves working with your lender to determine how much a home loan you can afford. The lender will review your financial history and possibly take a look at some relevant documentation and provide you with an informed estimate of how much money you may be able to borrow. You may also wish to take this opportunity to become more familiar with your mortgage options, and to get a tighter rein on your budget.
However, it's important to recognize that when it comes to pre-qualification, mortgage lenders are not guaranteeing that you will be approved; they are only verifying your ability to take on mortgage payments and giving you a clearer idea of how much of a mortgage you may be able to afford. You and your real estate agent can then use this informal evaluation to refine your search to properties that are within your expected budget range.
Mortgage Pre-Qualification vs. Pre-Approval
Although the terms pre-qualification and pre-approval are sometimes used interchangeably, they are not exactly the same thing.
Mortgage pre-qualification is a less conclusive process. Lenders may be willing to accept self-reported information rather than requiring official documentation or performing a check on your credit history. Pre-qualification is essentially a ball-park estimate. Borrows who pursue loan pre-qualification may receive a pre-qualification letter which they can share with real estate agents or home sellers as proof that they are working with a licensed lender.
Pre-approval, on the other hand, is more official. In fact, you can think of pre-approval as the closest thing to actually finalizing a mortgage contract; you will work with the lender to complete a mortgage application, and your lender will review your financial documentation, most likely including recent pay stubs, bank statements, tax returns, and statements for any additional assets you may have (such as stocks, bonds, IRAs, and 401Ks). This will give the lender a clear picture of your finances and capabilities.
Although mortgage pre-approval does not necessarily mean that the loan is finalized or that it will go through, it is still a major step in that direction. As such, many sellers will prioritize accepting offers from potential buyers who have been pre-approved over those who are merely pre-qualified.
What Information Do I Need to Pre-Qualify for a Home Loan?
Because pre-qualification is an informal process, there are no agreed-upon requirements; different lenders will ask for different forms of documentation or pose different questions related to your current and past finances. Some lenders may wish to perform a credit check before they pre-qualify you for a loan, while others will be content to take you on your word.
That said, the more information that your lender can review, the more accurate estimate they can provide. If you are interested in getting pre-qualified, discuss with your lender to determine what information they will need. In many cases, lenders will ask you to self report the necessary information, which means that you won't need to share specific documentation (although you will likely want to have that documentation handy so that your answers can be as accurate as possible).
How Long Does Pre-Qualification Take?
Pre-qualification is a relatively painless process that can be completed within a day or two - or even in as little as an hour. Some lenders may wish to meet you in person, while others will likely be willing to help you pursue pre-qualification over the telephone or via an online meeting. However, if you are interested in getting pre-approved instead of pre-qualified, you can expect a longer turnaround time. Because pre-approval is an official process that requires you to submit documentation and undergo a credit check, you can help speed the process along by having all of your information ready and available before you get started.
The Perks of Pre-Qualification
Although pre-qualification does not necessarily mean that your lender will approve your loan, it does give you an idea of how much money you may be able to borrow. This allows you to move forward on your home-purchasing journey with confidence that the properties you are viewing are within your estimated budget range.
If you'd like a clearer idea of how much money you may be able to borrow on a home loan, check out the Pennymac mortgage calculator. And, if you have other questions about how to get started finding the right home for you, talk to a Pennymac loan officer today!
Share
Categories