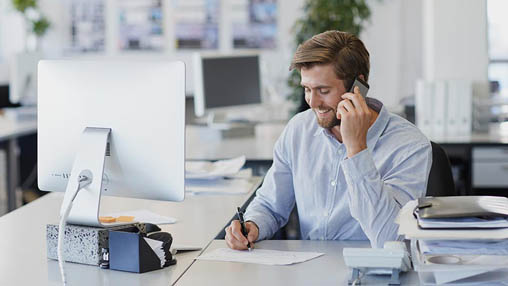 Tell me more!
I'm looking to …
Earn cash back
after close!
With Home Connect, you could earn $350 to $9,500 cash back after close.
Most people become familiar with term "loan officer," the professional who helps you figure out which loan option is right for you, when looking for a mortgage. You get the mortgage and keys to your new home, and then wave goodbye to your loan officer...but not so fast! There are other surprising — and important — ways a loan officer can be instrumental to your financial future.
1) Offer Credit Score Tips
A loan officer has seen many types of borrowers and knows what those with good credit have in common and can help find areas for you to improve your credit score. Even if you make timely monthly payments towards your debts, you can still find ways to increase your credit score.
If you carry debt close to or at your credit limit, it negatively impacts your credit score. Revolving debt, such as credit cards, can hurt your credit score if you carry a high monthly balance.
For example, you have a $5,000 credit card limit with a $4,500 balance. If you make small monthly payments or re-spend what you just paid down, you have a high balance that you're revolving from month to month.
2) Explain the Home Buying Process
During the process of buying a home, there are a number of common questions that arise from even seasoned homebuyers:
A loan officer can answer these questions and more so you understand and are comfortable with the home buying process.
3) Provide Stronger Buying Power
Anyone can put in an offer on a house, but sellers often give preference to reasonable offers that come with a pre-approval. Having a pre-approved loan tells the seller that the lender already reviewed your financial situation and approved you for a certain mortgage amount. Sellers know they're not wasting their time with a buyer who may not even be eligible for a loan.
For example, you and John Smith both put in similar offers on a house. You have a pre-approval certificate from the lender, but John Smith doesn't. John Smith might not even be in a financial position for a bank to give him a mortgage. The seller is more likely to accept your offer because you're pre-approved.
4) Offer Down Payment Coaching
When talking about a down payment, you likely recall 20% as the typical down payment amount when you buy a house. That's not always true; however it's still suggested to put 20% down to avoid paying mortgage insurance. It is no longer common to buy your first house and live in it the rest of your life, there are more loan options available these days. Not handing over a full 20% down payment may be a better choice if you don't plan on owning that house for the full mortgage term.
A loan officer can also coach you on ways to come up with down payment funds. This can include monetary gifts, loans from family, and even borrowing funds from your 401(k).
Remember not to drain all of your savings for a down payment because you won't have funds left for moving and other fees. A loan officer can help you figure out how to account for those costs too.
5) Provide a Financial Checkup
Just like you need an annual exam with a doctor, your finances also need a checkup. A loan officer can review your assets, income, and other financial aspects to give you an overview of your financial situation. Then recommendations can be made to improve your finances, such as a refinance to consolidate debt or reduce your monthly payment.*
Are you getting ready to refi? Review our Refinance Checklist to find out if you're prepared.
*Consult a financial adviser for further information regarding your unique financial situation.
6) Explore Cash-Out Refinancing
Your home equity can be used to pay for home improvements or to pay off high-interest debt. This is known as Cash-Out Refinancing. A new mortgage, for more than the current amount owed on the home, is taken out to replace the existing mortgage. The additional cash refinanced is then available to pay off higher interest debt, such as credit cards, or to make home renovations. However, there are pros and cons to this option, so be sure to consult your loan officer.
7) Advise Early Mortgage Payoff
Sometimes taking out a short-term mortgage loan and being locked into higher monthly payments just isn't feasible, and the thought of plunking all that money into interest in a long-term mortgage makes you cringe. There is another option: A loan officer can create an amortization schedule and run through options for how to pay off your mortgage early and save on interest over the life of the loan.
For example, you have a $200,000 mortgage at 4% interest for a 30-year loan. You decide that your budget allows for adding $100 a month to the principal of your mortgage payment. If you do that every month for the duration of the loan, your mortgage would be paid off in 25 years and 1 month, saving you $26,855 in interest!
8) Strategize Investment Property Options
Holding an investment property can be either a profitable or harmful asset to your finances. A loan officer can discuss various options, and offer loan advice to help you decide if this is a good financial move for your situation.
If you're interested in learning more on real estate investing, check out Buying Rental Property: Tips from the Experts.
9) Prevent Foreclosure
Unexpected financial hardship can happen to anyone. And if unresolved, you may soon find yourself behind on your mortgage payments and at risk of foreclosure. You don't have to face that nightmare. A loan officer can help connect you with the servicing department to find options to avoid foreclosure and bring your payments current again.
10) Look Out for Your Interests
It is a loan officer's responsibility to have your interests at heart. As a professional with experience in finance and the housing market industries, they can be a valuable consultant in many ways, such as helping you decide whether or not to refinance out of an FHA loan, or how to steer clear of scams. Remember: all loan officers have a fiduciary duty to you, the client.
Your Loan Officer Is Here to Help
Whether you're in the beginning stages of buying your first home, you're an existing homeowner who has questions, or you just want a financial checkup, a loan officer can offer you guidance and advice. Contact a Pennymac Loan Officer to learn more about the many ways they can help.
Share
Categories