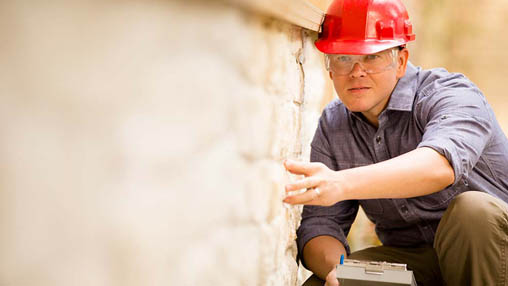 Tell me more!
I'm looking to …
Earn cash back
after close!
With Home Connect, you could earn $350 to $9,500 cash back after close.
Buying a home is an exciting milestone in anyone's life. So exciting, in fact, that many people rush through the process, intent on moving into their dream home as soon as possible. They often forget that they're not just buying a home—they're buying all the home's problems too.
A thorough home inspection can save you from making a big, costly mistake. Learn more about the home inspection process and use our simple checklist to make sure you get the most out of your inspection.
What Is a Home Inspection?
A home inspection is performed before the purchase is finalized to take inventory of any problems with the property. It can reveal issues that can't be seen with the naked eye: structural problems, basement leakage, dangerous electrical conditions, and potential environmental hazards like lead paint or mold. Many mortgage companies require a home inspection before they'll lend the money for the purchase.
Who Pays for the Home Inspection?
In most cases the potential homebuyer is responsible for the cost of a home inspection, which generally is between $300 and $500, and is often considered part of the total cost of buying a home. However, this can be negotiated with the seller. Some sellers even pay for their own home inspection before putting the house on the market; if this is the case, it's up to you to ask to see the results of the inspection and decide whether you'd like a second opinion. To help ensure that your interests are being cared for properly, it would be wise to proceed with an Inspector of your choosing as opposed to relying on the Listing or Buying Agent to make the choice.
Should You Attend the Inspection?
Absolutely! As the homebuyer, you have the right—and the responsibility—to go through the home with the inspector and take your own notes on the home's condition. This is your chance to ask questions and share information the seller may already have disclosed to you. For instance, if the seller warned you that the upstairs sink sometimes leaks, make sure the inspector puts the plumbing under a microscope.
An inspection also serves as a learning experience for you. By following in the inspector's footsteps, you'll learn where and how to shut off the utilities, how to operate the heating and cooling units, and much more.
Most home inspections take two to three hours to complete, but it's worth it to carve out time to attend. After all, you want to avoid buying a money pit.
Home Inspection Checklist for New Buyers
Your inspector will examine everything from the peak of the roof to the floor of the basement and beyond. This checklist can help you understand what the inspector is looking for, what common (and not-so-common) problems can be associated with these areas, and what it will likely cost to repair them.
1) Roof
A home inspector should pay plenty of attention to the roof of the home. Potential roofing problems include:
Loose, damaged, or missing shingles
Mold or rot
Obvious holes or leaks
Places where repairs have been made in the past (which indicates the roof has had problems before and may not have been fixed correctly)
Hanging, loose, or damaged gutters
Improper venting, clogged vents, or vents that have been painted over
Chimney issues like clogs, damaged bricks or flashings, or a leaning or crooked stack
Cost to repair or replace:Depending on the type of roof the home has, prices start at $120 and can run upwards of $1,800 per 100 square feet. If the roof has water damage, that will drive the cost even higher. Chimney repairs can add an additional $200 to $500, and installing new gutters will run you $1,000 or more.
2) Attic
You might use it more as storage space than anything else, but the attic can have its fair share of problems, too. Your inspector is looking for:
Stains and water damage to the ceiling
Evidence of rodent or insect infestation
Improperly installed or missing insulation (which leads to higher energy bills)
Vents from lower floors that end in the attic instead of being properly vented outside
Cost to repair:This varies depending on the size of the attic and the issues found. Installing or replacing a gable vent can be fairly inexpensive if you do the work yourself. Insulating the attic starts at about $400. Pest control ranges from $50 to $529 for insects and $80 to $900 for animals.
3) Heating and Cooling Systems
It's important that your home remain comfortable year-round, so careful attention will be paid to the heating and cooling systems. Common issue include:
Poorly maintained systems
Loud or obnoxious noises
Clogged filters or vents
Odors
Cold and/or hot spots
Cost to repair or replace:A service call runs between $40 and $250, depending on your provider. Parts and labor will cost more. If the entire HVAC system needs to be replaced, expect to spend thousands, and possible upwards of five figures for a state-of-the-art system.
4) Electrical System
It's crucial not to take chances with your electrical system. Poor wiring can cause electric shocks and house fires. Potential problems to watch out for:
Wiring that isn't up to code
Insufficient amps, causing the circuit breaker to "blow" when too much power is used
Improperly operating or installed outlets
Insufficient amount or placement of outlets
Outlets near water not equipped with GCFIs
Improperly installed or inaccessible breaker box
Cost to repair or replace:Electricians don't come cheap, at $65 to $85 per hour for labor alone.
5) Plumbing
Plumbing is another big concern during the home inspection. Common plumbing issues include:
Low water pressure
Rusted or leaking pipes
Dripping faucets
Slow drains, or drains that "back up" into other areas
Water taking too long to get hot
Toilets flushing slowly or continuing to run after flushing
Water pressure diminishing when other faucets are turned on
Cost to repair or replace:Some plumbing repairs, such as installing a faucet or clearing a clogged drain, are relatively inexpensive at around $200. However, if you need to repair a septic tank or replace a well pump, the price can quickly climb into the thousands of dollars.
6) Major Appliances
Homes are often sold with large, semi-permanent appliances, such as ovens, refrigerators, and dishwashers, so it's important to make sure these items are in working order. Signs that appliances might be at the end of their usefulness include:
Age (The older the model is, the more expensive it is to repair and the harder it can be to find the parts needed)
Loud noises, such as a dishwasher banging or a refrigerator turning off and on
Strange odors when the appliance is running
Poor overall condition
Missing knobs or handles
Mold or mildew on the seals
Cost to repair or replace:Poorly performing appliances are one of the most common issues found in a home inspection, and fortunately, the cost is generally limited to the price of the new appliance itself.
7) Basement
The main problem basements face is water seepage and damage. Your inspector will look for:
Signs of mold and mildew
Cracking walls
Damp floors or walls
Odors
Stains
Cost to repair or replace:It can be difficult to track the source of moisture in the basement, as it's not always obvious if it's seeping in from outside or the sign of an inside problem. There are several different waterproofing solutions, and the cost varies widely. If mold is present, you can expect to spend $500 and up for removal.
8) Interior and Exterior Structure
Having a structurally sound home is crucial, especially if you live in an area that is prone to high winds, frequent thunderstorms, flooding, earthquakes, or other high-intensity natural phenomena. Signs that this may not be the case include:
Walls that appear to bow, either inward or outward
Sagging ceilings
Doors or windows that appear uneven, leaving gaps
Cracked or sliding foundation
Sloping walls
Cost to repair or replace:Structural defects vary widely and are usually costly. We recommend you consult a contractor with your specific concerns. Also note that the federal government requires homeowners to buy flood insurance if they live in certain high-risk locations; your real estate agent should be able to tell you if this the case.
9) Energy Efficiency
Your heating and cooling bills depend on how energy efficient your home is. Signs that you'll be throwing your money out the window (literally!) include:
Single-paned glass
Poor condition of door and window seals
Moisture building up on the inside of walls, doors, and windows
Signs of mildew on window sills and door frames
Drafts near windows and doors
Windows and doors with gaps when fully closed
Cost to repair or replace:Standard-size energy efficient vinyl windows cost between $450 and $600 each,installed. Installing energy efficient doors can cost upwards of $700. However, you can significantly cut down on your costs while still saving energy by having appropriate weather stripping installed.
10) Street View Condition
What is the overall condition of the home when viewed from the street? Also known as "curb appeal," this applies to aesthetic exterior problems such as:
Cracked, broken, or peeling siding or stucco
Peeling paint
Missing or crumbling brick and mortar
Poorly maintained garages, carports, or other outbuildings
Signs of water pooling toward the foundation, rather than away from it
Cost to repair or replace:This depends on the specific issue. The average cost to paint a house is $2,766. Vinyl siding is more expensive, at $6,800. Landscaping costs to redirect water flow varies greatly based on location.
Your Home Inspection Is Complete. Now What?
Interpreting the results of your inspection and deciding how to proceed can be nerve-wracking. If you have questions, be sure to ask your home inspector! They'll be more than happy to explain anything you don't understand.
Remember, no home is "perfect." Your inspection likely turned up issues both big and small. Now you have several options to choose from. You can:
Request that the seller pay for the necessary repairs
Lower your offer to account for the repairs you'll need to make
Ask for a credit for the repairs at closing
Withdraw your offer (if your contract lists inspection as a contingency)
Your real estate buyer's agent can help you decide what works best for your situation and negotiate with the seller to find a deal that everyone can agree to.
A home inspection prevents you from being stuck with costly surprises on move-in day. Armed with this knowledge, you're better prepared for what to expect, and able to make an educated decision on how to proceed.
Whether you've just begun searching for your dream home or are preparing to sign on the dotted line, Pennymac can help! Contact one of our Loan Officers today and let us know what we can do for you!
Share
Categories