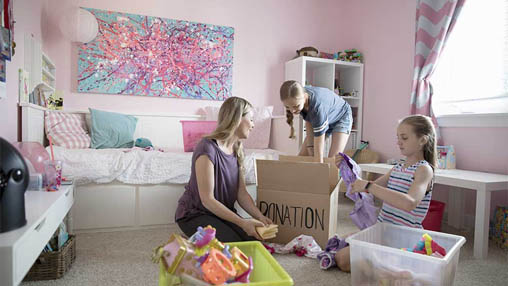 Tell me more!
I'm looking to …
Earn cash back
after close!
With Home Connect, you could earn $350 to $9,500 cash back after close.
Whether you love Marie Kondo (a Japanese Organizing consultant and author) or think that a well-folded sock is a silly concept, there's no question that an organized, clutter-free home is an enjoyable space to be in. Organization comes naturally to some, but many of us struggle with a few (or many) aspects of keeping our home in harmony. Add in the additional pressure of an upcoming move, and it's easy to feel overwhelmed by the pressure of prioritizing and packing your possessions. We asked expert home organizers, professional movers, and even home designers for their help — read on to see how you can plan for both an easy to maintain home, and an organized move when the time comes.
How to Get Started
The best way to get started without becoming overwhelmed is to set smaller goals that will bring quicker wins. This will help maintain motivation and build up momentum.
Nearly everyone has some aspect of organization they struggle with. Even if you keep a clean desk at work, and are happy to help others with cleaning projects, addressing your own issues with clutter can be different. Familiarity, sentimentality, and even just a tendency to put your own needs last can lead to an overly full, disorganized home. When you feel stuck and overwhelmed and don't know where to start, it's often easier to just keep living with the clutter. If you are ready to make a change but just don't know where to start, here are ideas from two of our experts on how to get it done.
Holly Connors is an Australian full-time blogger who focuses on organization, DIY projects, and simplifying life. With a previous career in psychology, Connors now shares her family-focused tips and solutions for staying organized at home with kids.
One of the most challenging aspects of a successful declutter is knowing where to start! Decluttering can be an overwhelming process, especially when it is long overdue. The best way to get started without becoming overwhelmed is to set smaller goals that will bring quicker wins. This will help maintain motivation and build momentum.
To do this, you may decide to start with a single room or area of your home and break that down into smaller tasks. For example, decluttering the kitchen you would work through section by section — the pantry, each individual cupboard, and any other storage spaces your kitchen has. Any clutter hot spots in the kitchen area would become their own separate tasks too, allowing you to tackle each room space by space.
By doing smaller sections at a time, you will see gradual progress and also have a better chance of maintaining your decluttered spaces than if you were to attempt an entire room in one sitting. Smaller decluttering tasks also fit better with busy lifestyles, so that no matter how little time you have, there will still be time to make progress on your decluttering.
Adeel Shabir is a content marketing executive at GigWorker, a media outlet focused on the gig economy. Shabir knows that not everyone excels at organizing and that hiring help can sometimes make for a more efficient use of your resources.
There are numerous times when you may need to hire someone to help you with moving or packing something. For instance, I would definitely hire someone when moving to a different location or house — employed individuals are professional packers who know how to pack everything in an organized manner. Organizing stuff is an art and hiring someone can be a great decision versus doing it yourself. 
How to Tidy Up Before a Move
A common motivator behind decluttering comes when buying a home (or taking steps towards any other type of upcoming move). Tidying up before you move will save you both time and energy that can often translate into money, such as less moving expenses or storage facility fees. In addition, it can be very satisfying to start over in a new location, accompanied only by the possessions that you need and love.
When you have a family, moving can add an additional layer of complexity. You will find yourself responsible for the possessions of multiple people, some of whom may not be able to help you with sorting, cleaning, and other chores. Julie Morgenstern is an organizing and productivity expert and author of Time to Parent: Organizing Your Life to Bring Out the Best in Your Child and You. Here are her top tips for decluttering and organizing a home before you move.
Moving is the perfect excuse to "clear the clutter" and hit reset in your new home. If you have a family with kids, my warning to you is this: Don't declutter without involving your kids (if they are old enough to speak), as they may have surprising attachments to things you aren't aware of. And you don't want them talking about how you threw out their favorite picture decades from now. Involve them in the process.
As soon as you decide to move, go room by room through the house and tag items according to their destination. Use different colored Post-its to distinguish what you will keep, send to storage, what you will give away, and what you will sell. Give every family member their own stack of Post-it's and have them tag away. Work on one room or closet per day, investing two to four hours per room. Keep only the items you use and love. For the items you will not be moving to your new home, here are two options:
If you are sending items to storage, call the storage company to move selected items into a nearby storage facility. Make a complete inventory of what you are sending, including the details of what is in each box. File this document in a folder called "off-site storage" and store it with your moving papers.
Call a local charity to pick up those items you want to give away, or have a tag [or garage] sale. Remember, selling items is also a lot of work. Options include Craigslist, eBay, and a yard [or garage] sale, depending on where you live, the time you have to invest, and the time of year. For true antiques and items of great value, call in an antiques appraiser or dealer who may buy directly from you.
Stacey Agin Murray, creator of Organized Artistry, is a professional organizer located in Fair Lawn, NJ. She recently decluttered prior to moving out of, renovating, and then moving back into her own home. From both her own personal experience and her work with clients, here's Murray's advice for tidying up before you move.
Start decluttering early! As soon as you know that you'll be moving, start decluttering. Whether it's an apartment or a house, you'll be surprised at how long it takes to declutter and purge the belongings of a home.
Here are three essential things Murray says to consider:
Create a decluttering plan: Every room, cabinet, and closet needs to be decluttered before moving. Create a list of all spaces and as you purge through them, scratch the space off your list. Do not zigzag from one room to another, declutter one room at a time.
Play the "fill-the-can" game: While decluttering, do your best to fill your garbage can(s) before putting them to the curb. This will put your decluttering skills to the test on a weekly basis. Reward yourself for filling those cans! Making decluttering fun makes the process much more enjoyable.
Where will it go? Before you start purging your home, designate people and places to donate items to. Pick a thrift shop and/or relative to receive clothes you no longer want. Research what organizations take furniture and household goods. Consider websites such as Craigslist and eBay to sell items in excellent condition. Determining this information before decluttering will help get the items out of your house faster since you've already figured out how to "pay them forward."
After ensuring that you will be moving as little as possible into your new home, it's time to plan ahead for the storage solutions you will need. It's an important consideration to keep in mind if you will be updating your new home before you move in. Chad Hanson is the managing general partner at Sustainable 9 Design + Build, an eco-friendly modern home building company in Minnesota.
In terms of designing or remodeling a home with a focus on organization, making sure you build in enough storage space is key! Too often we see homeowners paying for the remodel of their dreams without leaving adequate space for storage. It sounds super simple because it is: If you don't have storage space for your stuff, it's going to end up in a disorganized mess somewhere else. Accurately assessing how much stuff you need to fit into your new home or remodel will allow you to build in an appropriate amount of storage space. If you don't — it's a pain, trust me.
The best way to add storage space to an already small room is to show off your stuff. Using hooks or display shelves can provide a nice home for your shoes, coats, pots, pans, wine glasses, or whatever you want to display. It may require more work to keep straight than having the proper space in the first place, but it is a very practical and affordable option if you're in a smaller space.
Staying Organized After a Move
Now that you've moved into your new home, you may think your work is done, but for most of us that's just not true! Just because you are in a new home doesn't mean you will magically develop new habits. If you want to ensure your new home stays clean and organized, you need to invest in creating a new process and putting new rules in place. Otherwise, you might eventually end up right back where you started.
For an easy, long-term organization solution that will work for nearly anyone, Julie Morgenstern takes inspiration from early childhood education.
Think of kindergarten as you set up your new spaces. When it comes to organizing, every room, closet, and space should be designed around the concept of a kindergarten classroom: the space is divided into activity zones that reflect what takes place in each area. Group similar items together, and get fun containers, label them, and teach kids (or yourself) to use them. With some tweaks, this system works for any space (closets, kitchen, fridge, garage). The zones in a family room, for example, might be: Reading, Entertainment, Hobbies. For a kid's room, they might be Sleeping, Dressing, Playing, Homework.
[Next,] establish a daily cleanup time. A well-organized system, where every item has a convenient, well-labeled home, should enable you to do a very quick, 10-15 minute tidying at the end of every day.
[Finally,] declutter twice per year. To keep the volume at bay, tie decluttering to predictable annual moments: end of school year, birthday, holidays. Get rid of anything that is obsolete, extraneous, broken, torn, stained or just plain annoying. Each space should be filled with only what you (and your family) use and love — so you can quickly find what you need when you need it, and put it away with speed.
Lior Rachmany is the CEO and founder of Dumbo Moving + Storage, one of the largest moving and storage companies in New York City. Having seen (and moved) many homes, Rachmany offers this four-step cleaning plan that will ensure that your new home stays clean and organized.
Schedule a specific day and time to clean, like you would a meeting, and stick to it. Avoid procrastinating your deep cleaning and don't postpone this after you've selected a time. If you live with others, square away the date and time with them, in order to ensure that they're as committed and willing to pitch in as you are.
Clean one room at a time. By focusing on one section at a time in a room, you can move from room to room more efficiently. This will make the cleaning process [simple] and full of small victories.
Make the most of your cleaning experience — turn it into a workout. Put on your favorite playlist and reap the cardio and strength-building benefits that come with mopping, sweeping, vacuuming and rearranging furniture.
Create a checklist. As you clean from room to room, write down and check off everything that you have cleaned in order to better celebrate, and keep track of, these small victories.
Sample Cleaning Checklist
Give a nice scrub-down to the walls and ceilings and other areas that you usually don't clean regularly
Wash your windows inside and out and make sure they are spotless
Dust your books, heirlooms, decorations, and shelves
Wax wooden furniture
Wipe the floor with a mop
Deep clean your carpets and curtains — Luckily, most curtains and draperies are machine washable, but consider having carpets in high-traffic areas professionally cleaned
Clean kitchen appliances that you use on a daily basis, and if anything is damaged, make sure you have it repaired sooner rather than later
Remember that ovens, microwaves and fridges seem to be the most commonly ignored kitchen areas, therefore they can be the most problematic
Make your stainless-steel look bright and shiny again with a stainless steel polish
Organize your closet by packing your winter clothes away and making more room for your spring and summer clothing, or vice versa
Once the sheets and comforter are removed, clean and vacuum your mattresses thoroughly
Clean your books and bookshelves and line them according to the size and subject
Some chores should be done seasonally, and there's no better time than spring to clean your outdoor furniture and make your garden and patio look more attractive
Decluttering for Your Ideal Home
Tidying up your space means more than just sprucing up its aesthetic value. An organized home can keep your anxiety down and your spirits up and can ultimately save you lots of time and money in the long run! If you are in the process of planning a move, learn about your financing options by contacting a Pennymac Loan Officer or apply online today.
The views, information, or opinions expressed in this blog do not necessarily represent those of PennyMac Loan Services, LLC and its employees. The inclusion of links to third party sites is not intended to assign importance to those sites or to the information contained therein, nor is it intended to endorse, recommend, or favor any views expressed, or commercial products or services offered on these third party sites, or the vendors sponsoring the sites.
Share
Categories