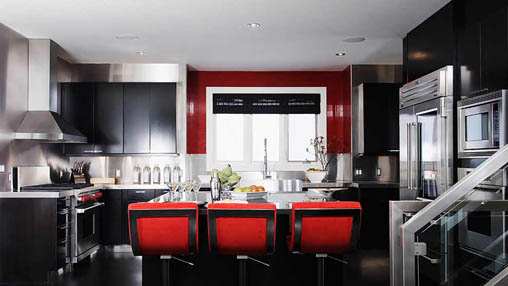 Tell me more!
I'm looking to …
Earn cash back
after close!
With Home Connect, you could earn $350 to $9,500 cash back after close.
So you saved up, bought your new home and completed your move! Congratulations on checking such a substantial project off of your list.
Once you're settled in your new home, though, it won't take long before the urge to take on new projects appears. If you want to stay on trend and improve the way your home looks (and works), read on for creative ideas from industry experts, including tips for easy design updates, whether your budget is $500 or $50,000.
Home Decor Trends for 2019
"Over the last decade or so, the predominant remodeling trend is to create open-concept spaces."
If you want to rejuvenate your home, you may think that you need a big budget, lots of DIY skills and huge blocks of free time. This is not true: There are a lot of ways you can change up your home using simple, affordable items like paint and accessories.
Jessenia Toro is Chief Operating Officer for MyHome, a full service kitchen and bathroom renovating company based in New York City. Toro works closely with her team to meet customers' needs by ensuring that their renovation project runs smoothly. Here are Toro's picks for easy and on-trend updates that anyone can easily add to their home.
Fashion is impacting home design. For this year, there are three big fashion-related trends hitting the fashion and home design world: nature, the color yellow, and Boho style. Nature is trending in wallpapers, live greenery and earth tone paints. Yellow is gaining popularity in accent furniture and paints. Boho style is affecting all new remodeling décor.
In bathroom remodeling, we're seeing a trend of clients investing in premium features like shower heads with digital controls, speakers and mood lighting, to custom vanities and shower doors.
In lasting design trends, grays are here to stay: Not only does gray lead in wall and floor applications, it has become increasingly popular in cabinets. In addition, matte black is timeless, classy, stylish, and sultry. We have been finding more clients looking to incorporate a matte black finish into their designs.
Popular (and Practical) New Home Remodeling Ideas
If you are ready to tackle a larger home design project, like remodeling a room or your whole backyard, it's best to start by thinking about how you want to use the space. A project that is both functional and beautiful will be enjoyed long after any specific styles have passed.
Tim Bakke has over 40 years of experience in construction and home-improvement writing, editorial direction, and publishing management. He has worked in magazine and book publishing, and for the past 10 years in online house plan publishing. With his many years of experience, Bakke has seen many home remodeling trends come and go. Here are his top picks for useful, functional home trends for the year (and one trend that is on the way out).
Move over man caves, here come she-sheds! She-sheds, [along with other spaces located outside] the conventional living areas of the home, are becoming very popular to women from all backgrounds, from executives needing a place to decompress after a long day at the office, to crafty stay-at-home moms looking for a little extra room to be creative after the kids are off to bed.
Another custom space, the zen den, is growing in popularity as a personal space to relax, read, collect one's thoughts, and enjoy a bit of silence. And, like she-sheds, it's also a place to be creative and work on art and other projects.
When it comes to painting the exterior of your home, the 'darkside' is in. As millennials move out to the suburbs or even the country, they've also decided it is time to "mix it up" a bit. Saying enough with all the white houses dotting the landscape, some new homeowners are bringing with them dark bold shades — particularly charcoal and black — combined with white, beige, and other primary and accent colors for dramatic effect. For some, painting it black is the new white.
Finally, tiny houses are out. Families are moving to the suburbs or larger apartments in the city. Why? Just think about having two growing adolescent children and living in [only] 500 square feet — need we say more?
Jennifer Grimes first bought a small cottage upstate to improve her fly fishing skills on breaks from her job in New York City. She eventually moved north full-time and founded Red Cottage Inc., an agency offering more than fifty vacation rentals in The Catskills and Hudson Valley. She also started Country House Realty, a boutique real estate brokerage serving the same market. Here are her thoughts on the best remodeling projects to focus on both indoors and outside.
Over the last decade or so, the predominant remodeling trend is to create open-concept spaces. A central hub that serves as the heart of the house, [where the] cooking, dining and lounging [all occur], has been the preference over separate rooms dedicated to each function. A single space promotes a more communal experience.
In [New York], decks and outdoor spaces near the house have recently been receiving the creative focus and financial resources, making these areas part of the overall "living space." Multi-tier decks, with conventional outdoor lights and supplemental string lights for ambience are huge among our metro New York clientele who decamp upstate on weekends.
The requisite fire pit in the woods is now frequently recreated with a mod version of a fireplace on the deck. Al fresco dining, of course, is part of this space, as is often a lounge area with sectional and additional lounge seating. The deck has become the summertime living room.
Also, accent walls have become very popular. And it's not just a single, saturated color, it's often some kind of paneling. Barn siding, with its warm colors and rough texture are very on-trend at the moment, but so too are shiplap and pickled pine, where just a hint of wood grain is visible.
While interior design is a critical component of a home project, also consider how automation can add ease to your daily life, making your house work for you and not the other way around.
Trends in Home Automation
Even if you are satisfied with the way your home looks, are there ways that you can improve the way your home works? Automating features of your home, from the lights to the temperature, can make your home more comfortable, safer, and might even save you some money.
Patrick Stuart joined Hubitat in October 2017, where he is the director of product and business development. He first became interested in home automation in 1989 and went on to start his own technology consulting company. With his 10+ years of delivering customized home automation development, consulting and implementation services, Stuart offers the following guide for homeowners interested in automation.
Most people didn't realize that the smart home devices they purchased over the last couple of years are dependent on an active internet connection. When the internet is out, these devices don't function as they are intended to, or in most cases, they do not work at all.
Because of this, locally-controlled devices, which do not rely on the cloud to function, have recently become more prevalent in today's connected home. With local control comes the reassurance that the device will function if the internet is down [or] if / when a company decides to discontinue its cloud features.
Voice assistant devices, such as Google-Assistant-powered devices and Amazon-Alexa-enabled devices, remain the most popular devices people are adding to their smart home. While the voice-assisted smart home doesn't require homeowners to pull out their phone to turn on/off a light, true home automation does not even require a voice command — events automatically happen exactly when you want them to.
Homeowners are looking for a platform that is simple to use but powerful enough to create custom rules. For example, instead of prompting Alexa to turn off the lights with a voice queue, true home automation delivers the ability to turn off the lights after sunset if no one is present, simultaneously turn on the porch lights and receive a text notification to confirm. Or, if someone in the family has a tendency to leave the door unlocked, [you can] create a rule to lock the doors automatically after 10 p.m.
So, now your home may have the latest technology and eye-catching designs, but at the end of the day, are you maximizing the devices you have?
Will your Home Design Projects Pay Off?
People buy homes for many different reasons, including emotional, logistic, aesthetic, and practical ones. One of the most common motivations for homeownership is that it will be a good investment. You can increase the value of your home when you renovate, which could end up resulting in a tax break*.
*Consult a tax adviser for further information regarding the deductibility of interest and charges.
Here's how to know if your project will pay for itself — and more.
Amanda Woolley is the head of public relations and communications at Porch, a leading home repair marketplace. Porch helps homeowners with home maintenance and repairs by connecting them with the right professionals (similar to Angie's List). Porch recently conducted several surveys which produced insight on the renovations homeowners have done, and those they plan to do in the future. Woolley shared her summary of the latest trends, plus a few valuable money-saving tips.
In our 2018 Home Improvement Year-End Review, we discovered that homeowners spent an average of $5,000 on home improvement projects, with the average gain being $9,281. In our Get Your Home in Shape in 2019 survey, we learned that on average, homeowners plan on spending $3,911 on home improvements and repairs, [with] 67% believing it would add value to their home. Homeowners will probably continue to make improvements, as 52% of Americans believe home prices will increase in 2019, compared to the 19% who say they will fall.
Homeowners have ambitious plans when it comes to home improvement. While 35% of those surveyed had just one renovation project planned, 22% had two projects outlined, and 6% planned on completing three projects within a year. But only 42% had plans to hire a contractor to help them. While not hiring a contractor could save money upfront, a professional's guidance could save a homeowner money by avoiding costly mistakes later.
Where you should focus your attention when it comes to renovation depends on your intentions with your home. If you are looking for the best return on investment, projects like deck additions or replacing a garage door are good projects to tackle. If you are getting ready to sell a home, bathrooms, kitchens, and the home's exterior are always a top concern for buyers.
Stuart agrees that investing in your home typically pays off, including home automation updates.
Video doorbells are extremely popular, valuable add-ons to help trigger automation based on motion or [another type of sensory] detection. Having video clips that you can review to ensure a package was delivered is another benefit and helps keep peace of mind.
Homes with smart technology solutions that incorporate lighting, motion sensors and temperature control provide a much greater value. For the new homeowner, having a smart home adds value in terms of security, convenience, energy conservation and eventually resale value.
When done intelligently, the cost is worth it to take your ideal home project and bring it fully to life. Not just for the added value, but also for the increase in quality of life, while you're in your home.
Make Your Project a Reality
With home improvement experts televised as celebrities and stylish home depictions with how-tos all over Pinterest, it's not hard to get excited about home design. Before you tear down a wall or buy three gallons of that hot, new paint color, take the time to think about the trends you like, technology you want, and most importantly, your lifestyle.
Basing your home renovations on the way that you actually live will ensure that you will love the changes you make, both today and tomorrow. If you are ready to explore owning or upgrading your home, take a first step and get pre-approved today or contact a Pennymac Loan Officer about using a refinance to fund your remodel.
The views, information, or opinions expressed in this blog do not necessarily represent those of PennyMac Loan Services, LLC and its employees. The inclusion of links to third party sites is not intended to assign importance to those sites or to the information contained therein, nor is it intended to endorse, recommend, or favor any views expressed, or commercial products or services offered on these third party sites, or the vendors sponsoring the sites.
Share
Categories