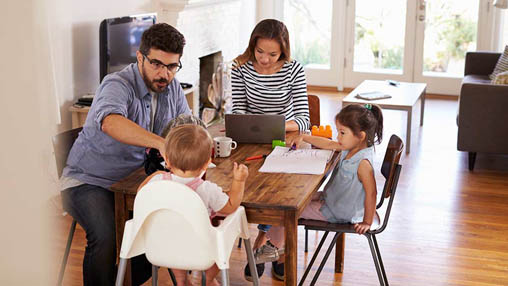 Tell me more!
I'm looking to …
Earn cash back
after close!
With Home Connect, you could earn $350 to $9,500 cash back after close.
Ready to buy a home? Can't stop daydreaming about that charming townhouse? Not so fast. There's a lot more that goes into buying your first home than scrolling sales listings and wishful thinking. Get the down-low from our housing market experts.
The 5 Steps to Buying a House
Before you begin a serious search for a home, follow these steps:
Understand your credit score
Begin saving for your down payment now
Honestly, assess your housing budget
Set realistic house hunting expectations
Contact a mortgage lender
"With all the different variables that go into buying a new home, it can quickly become very stressful, both mentally and financially," says Sacha Ferrandi, founding partner at Source Capital Funding, Inc. "However, starting your search with an in-depth financial strategy in place can help you reduce your overall stress levels."
Let's look at these steps more closely and see what the housing experts have to say about each one.
1. Understand Your Credit Score
Your credit score determines what type of loan and interest rates you will qualify for. In fact, many lenders won't even consider offering a home loan to a borrower with a credit score less than 620. Ali Wenzke, the founder of The Art of Happy Moving has said, it's critical to know where you stand.
"In order to be an attractive buyer in any housing market, you should focus on getting your finances squared away. Request a credit report to check your FICO score. Pay off outstanding debts and refrain from opening new credit cards or getting a car loan. You can dispute any errors with the credit bureau. Once you can demonstrate a steady paycheck and good credit scores, you'll be ready to approach a lender." – Ali Wenzke
If your score needs work, don't be afraid to take the time to build or repair your credit. Playing the long game by paying off debts and sticking to a strict budget may benefit you when you're ready to begin the mortgage process.
2. Begin Saving for Your Down Payment Now
Trying to scramble enough cash for a down payment right when you apply for a mortgage won't fly. It's important to start saving long before you submit your loan application, Ferrandi says.
"Although it may seem obvious, this aspect of the process is often overlooked. Of course building up your credit score and setting a budget are also steps you should take early on in the home search process; however, the amount of money you can put down will help you strategically determine a reasonable budget, loan size, and mortgage rate—and ultimately where you decide to live." – Sacha Ferrandi
Lenders like to see a down payment that totals 20% of the home purchase price ideally, but there is some flexibility with different kinds of loan products. In fact, some first-time homebuyers may be able to secure a loan with a down payment as low as 3.5%, especially through the FHA Loan Program, or 3% with a Fannie Mae product. Just be aware that one of these options may cost you more over the term of the loan.
"Given that the amount of money you put down will affect the long-term financial aspects of buying a home, it should always be the first financial step you take." – Sacha Ferrandi
Specific loan options will depend on your unique personal financial situation, Ferrandi adds.
3. Honestly, Assess Your Housing Budget
Even with a down payment and mortgage pre-approval letter in hand, Denise Supplee, director of operations at SparkRental, says homebuyers need to take a cold, hard look at their monthly budget in the context of homeownership. This includes planning for regular expenses such as repairs and utilities, and eliminating extras like dining out most nights or seeing movies each weekend.
"It is important to be brutally honest. I urge new buyers to realistically take a look at what they can afford in their housing payment. So often, the newbie buyer goes to the tables and puts down every cent they own. This leads the buyer to becoming house-poor. Not only that, they often forget that either their landlord is no longer there to provide repairs, and often leave no money in reserve." – Denise Supplee
Romana King, founder at RK Homeowner agrees.
"A bank can approve you for a monthly mortgage of $3,000 but that doesn't mean you can reasonably afford it. To keep your lifestyle, your budget and your sanity, create your own budget. Then look to see if there are places to save money. This will give you a really good idea of what you can realistically afford." – Romana King
One way to estimate your payments is to use a housing affordability calculator. You can also reach out to your financial planner, suggests Andrew Feldman, a real estate agent with Triplemint.
"Speaking to your financial advisers about what monthly payments toward homeownership you can afford are much more important than finding out how large of a mortgage you can get approved for. Figuring out what you should be spending on your home to keep you on track for your other financial and personal goals is the first step." – Andrew Feldman
4. Set Realistic House Hunting Expectations
Once you've received your mortgage pre-approval it's time to start looking for your dream house. That's the good news! The bad news this is also the time that many buyers begin to wear rose colored glasses and lose sight of why they are buying a house in the first place, says King. It's all about managing your expectations.
"The easiest way to lose track of your budget and get in over your head is to forget why you're buying a home. Quite often it's a life event that prompts a home purchase, so take stock. Do you need bedrooms for anticipated new family members? Do you need a yard for a dog? Will relatives be staying with you for long periods of time? Create a spreadsheet of what you need and what you want. Don't forget to include budget constraints." – Romana King
King says too often homebuyers are attracted to a home's aesthetics, rather that its structural integrity. Something like that could lead to a fixer-upper turning into a DIY disaster.
"Many first-time buyers fall in love with the new-build show or resale staging, but these are just glossy coverings. Instead, focus on the structure of the house. Are the major components—roof, furnace, electrical, plumbing, foundation—solid and safe? If not, you could buy a pretty money-pit." – Romana King
Waiving a home inspection is a bad idea, she adds, even in competitive markets.
"Not only can the home inspection offer insight into current and future repair and maintenance costs, it can also be used as part of your negotiation of the final sale price for a home. You wouldn't want to save $1,000 or even $10,000 because a problem was found in the house? If you find you are really rushed for time and don't want to miss out on an offer date, then ask your real estate agent to book a longer buyer viewing." – Romana King
While difficult, it's best to keep your impulses in-check, says Brett Graff, a family finance expert and founder of The Home Economist.
"It's hard not to get emotional about a particular house. You really want to keep your eyes open for things about the location, and other issues that you don't want to discount. You want to keep in mind the surrounding areas. You definitely don't want to turn a blind eye to anything in the future that might adversely affect your property value. Do not take that home inspection lightly." – Brett Graff
5. Contact a Mortgage Lender
Once you're confident in your fiscal health and monthly budgeting, you have saved up a sufficient down payment and you have set responsible expectations, the last step to buying a house is to contact a mortgage lender. Most lenders can help you get pre-approved for a home loan. Getting your loan pre-approved is optional, but in today's home buying market, it is helpful to be ready to make an offer. You can get a customized mortgage quote from Pennymac, or speak directly with one of our expert Loan Officers to take these final key steps toward purchasing your home. Start your homeownership journey today!
Share
Categories
buying a home credit score down payment prequalifying home buying