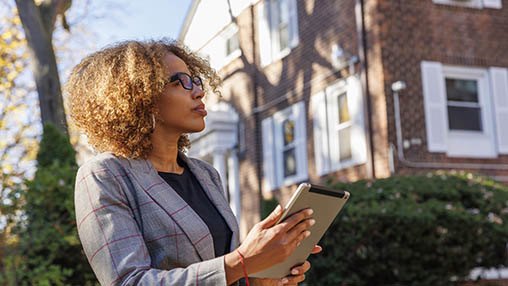 Tell me more!
I'm looking to …
Earn cash back
after close!
With Home Connect, you could earn $350 to $9,500 cash back after close.
Whether you are selling your home to begin a new adventure, or refinancing your existing home, getting an appraisal with the value you want is an important hurdle to clear. You may feel that the appraisal process is out of your control, but there are many easy and inexpensive ways to get both yourself and your home ready.
We put together a checklist of our top tips below. But first, let's quickly cover the basics of home appraisals.
Why Do I Need My Home Appraised?
A home appraisal is an unbiased report on the value of your home, performed by a trained and licensed individual. Appraisals are an essential part of the home financing process, ensuring the homebuyer, seller, and mortgage lender each have an impartial, consistent, and accurate assessment of the value of the property under consideration.
Are you a potential homebuyer looking to better understand appraisals? Take a look at our guide, Understanding the Home Appraisal Process, for additional information relevant to the buyer perspective.
What Do Appraisers Look For?
An appraiser uses several sources of information to determine a property's value, which includes visiting the property in-person and reviewing recently completed sales of comparable homes. Common items examined during home appraisals include:
Size of the property. In real estate appraisals, size matters quite a bit. In general, the higher the square footage of a home, the higher its value. After all, who doesn't want more bedrooms and living space?
Exterior condition. While the external appearance of your home is a significant factor in the appraisal, it is not the only aspect of the exterior considered when assigning a value to your property. Other outdoor considerations include checking the condition of the roof, foundation, and walls for leaks or mold. Also, lot size is taken into account, including front and backyard square footage, along with any outbuildings such as detached garages or tool sheds.
Interior condition. Again, this refers not only to the appearance of the interior, but also to the working condition of normal household assets such as plumbing, electrical systems, doors and windows, light fixtures, and any kitchen appliances to be included in the sale.
Home improvements and renovations. Any work you have done or upgrades you have made to spruce up your home should be noted to the appraiser. This can include anything from the central air system you installed 10 years ago, to the new flooring and countertops you just installed in your kitchen (along with the new oven and fridge to match, of course).
There's a lot to consider preceding an appraisal, so if you're feeling a bit overwhelmed, follow this checklist to help get your home (and yourself) ready.
Top 8 Tips Home Appraisal Checklist
How does one best prepare for an appraisal? We put together a checklist of common (and not-so-common) tips to help ensure you get a high valuation from your appraiser.
1) Do Your Own Appraisal
Imagine that you are the appraiser. Walk around your home indoors and out, and really scrutinize, as if you were going to rebuy your house. Take note of any truly obvious damage or deferred maintenance that needs your attention. Leaks, broken systems, and damaged surfaces should all go on your list of things to quickly repair.
Thoroughly inspect safety equipment like smoke alarms, carbon monoxide alarms, and home security systems: Are they all functioning, or do parts or entire systems need to be replaced? Make a plan to repair these issues, and clean up any cosmetic issues that may have occurred as a result.
2) Investigate Comps
Check out recent home sales in your neighborhood. What has the price range been for homes with features and updates similar to yours? The values of these comparable homes (also known as "comps" in the industry) should be similar to what your home will appraise for. This information can help you know where to focus your time, efforts, and funds. If you happen to know a neighbor (or real estate agent) who recently sold a home in your area, contact them to find out if there were any appraisal issues or insights that they can share.
If you're working with a real estate agent, you can request that they collect some comps for you and your appraiser to review. Particularly if your home has unique or uncommon features, your agent may need to get creative while staying within the guidelines for selecting comps.
3) Get Superficial
Clean your house from top to bottom and remove any extra clutter. Once you have scrubbed and straightened up everything possible, consider making cosmetic updates that can have a big impact for a low cost. Painting or touching up existing paint, hanging updated window treatments, and replacing worn faucets, doorknobs and cabinet hardware are all easy updates that can have a big impact.
If you have been planning to update your decor after you move, consider bringing in a few of the newer pieces to make the old house look fresh and modern. Downsizing or moving long distance? Ask your real estate agent if they have staging furnishings you can borrow, or recommendations for a service you can use.
4) Make Your Outdoor Areas Truly Great
Now that the inside of your house is looking great, it's time to pay attention to the outside. Make sure that your landscaping is looking its best: Mow your lawn, trim your trees and bushes, and have any weeds or dead vegetation removed. Add color with inexpensive, seasonal annual flowers in the spring, summer, or fall, and make sure that snow removal is neat and tidy in the winter.
Remove outdoor clutter, like yard-work tools or stray toys, from everywhere on the property, and consider staging any outdoor living spaces with new furniture or accessories. Power wash your home's exterior, as well as your driveway and any deck or patio surfaces. Most of this can easily be accomplished in just one weekend, and the increased curb appeal will be worth it.
Check out expert tips for outdoor home renovations — you may find just the right improvement to increase your value!
5) Be Sure To Share Your Upgrades
Don't be afraid to mention to your home appraiser about the improvements you have done on your home. New features that you have added, updated HVAC units, exterior improvements like siding, gutters, or a new roof, and high-value room remodels like kitchens and bathrooms will all impact your appraisal value.
An easy way to make sure that your appraiser doesn't miss or forget about any of these improvements is to create and share a short, one-page list detailing each. You should have this list ready in advance, and include permit information for any work that required one.
6) Know Your Neighborhood
Make sure that your appraiser is also aware of any recent improvements in your overall neighborhood. Perks like new or highly rated schools, parks, transportation improvements, shopping, or other amenities that benefit residents are worth mentioning. These kinds of changes can add significant value to your home, and if your appraiser is not a local resident, they may not be aware of them. Appraisers are often familiar with the general area, but you probably know your specific neighborhood better than they do.
7) Stay Focused
While you are working your way through the tasks and updates listed above, it's important to remember not to go overboard and take on too many projects. Invest your time, money, and effort only on issues that clearly need attention. If you are getting an appraisal for a home you're selling, you most likely already have a buyer who liked your home enough in its current state to make an offer on it. Any major changes made could easily end up as a waste of time and resources.
8) Be Polite
When presenting the information on your home and neighborhood, be friendly with your appraiser, and avoid being bossy or overbearing. Readily share your collected information, but then step back to let them do their job. Once they are done, ask them if they have any questions for you or if there are any issues they feel you need to know about.
Your home's selling price is affected by much more than just the appraisal! Find out how the time of year can increase your sale price, or how disasters during home inspections can hurt it.
Be Ready for an Easy, Accurate Appraisal
Although it's not possible to change your bungalow into a country estate overnight, taking the time to tackle a few strategic projects before your appraisal can ensure that you get the results you want. If you are ready to upgrade, or refinance the home you love living in, get a fast, free online rate quote or apply online today.
Share
Categories