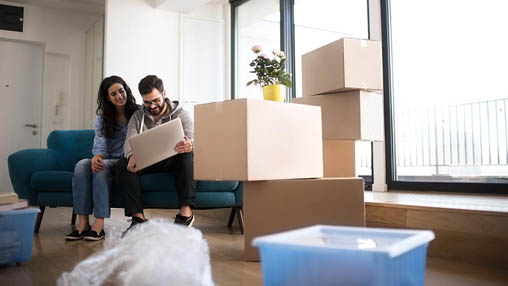 Tell me more!
I'm looking to …
Earn cash back
after close!
With Home Connect, you could earn $350 to $9,500 cash back after close.
The Millennial generation is often simultaneously blamed for and credited with many of the recent changes in American culture. One common tale is that Millennials don't want to own their own homes. Like most broad generalizations, this statement is not entirely accurate.
As the housing market has continued to improve since the 2008 crash, many millennials with growing families (and faced with rising rent costs) have chosen to become homeowners. We talked to real estate agents to get their insights on how Millennials are putting their own stamp on homebuying.
Millennials Not Buying Homes: Fact or Fiction?
"[Millennials] have been characterized as a generation that prefers to rent, when, in fact, they appear to be entering the market with a strong desire to own a home with a long term vision to build wealth."
New technology and the lifestyle choices of the millennial generation has led to many amazing innovations. Some of these innovations have led to once common parts of life becoming obsolete. Is homeownership one of those former standards destined to disappear? The answer is complex.
Larry Friedman is the co-founder and principal of SDF Capital, a real estate investment firm that flips and renovates homes in Westchester County, NY. His experience shows that when Millennials do want to buy a home, they have unique wants and needs.
Millennials are changing the market as many prefer the ability to move freely, therefore the rate of home ownership is declining. Those Millennials who do choose to buy often want homes that are fully renovated, therefore the demand for renovated homes is much higher than those in need of even a mild level of work. Also, Millennials seem to choose traditional 3- or 4-bedroom homes, not McMansions, as had been the trend.
Dave Werth is the Executive Manager of Sales in San Diego for Douglas Elliman Real Estate. In 2016 Dave was recognized as one of the Top 100 Most Influential Real Estate Agents in California. He personally feels that many of the myths about Millennials not buying homes to be untrue.
I think that the Millennial generation as a whole have been misunderstood when it comes to their impact on the real estate market. They have been characterized as a generation that prefers to rent, when, in fact, they appear to be entering the market with a strong desire to own a home with a long term vision to build wealth.
It is hard to say if this is generational, or if this is because of the current market conditions, but it appears to me that this generation is purchasing their homes for a longer term, with the intention of buying and holding properties to build a portfolio.
Chris Porter is the Chief Demographer at John Burns Real Estate Consulting where he helps executives understand, quantify, and anticipate demographic shifts that shape the housing industry. He sees many younger renters transition into home ownership as their families grow and needs change.
Millennials have had a significant impact on the housing market. As young, newly formed households usually do, many rented first, and the sheer size of the Millennial population has been a boost to the rental market.
Now, as the oldest cohort of this generation is in the life stage where they are forming families, they are causing the market to pivot to more entry-level or first-time-buyer homes. That's clearly evidenced by the number of home builders who have made a concerted focus on entry-level homes, and the short supply of lower-priced homes in the resale market.
Is your family growth challenging your living space? We compiled some expert advice that could help!
Millennials Drive New Tech Trends in Homebuying
Real estate as an industry has changed drastically due to innovations in technology. It's now easy to instantly view and compare nearly any home, almost anywhere in the world. Information that was previously hard to access is now at your fingertips. Here are some of the ways that Millennials (and buyers of all ages) are using these new tools throughout the home buying process.
Chris Lim is the founder and CEO of Climb Real Estate, one of San Francisco's leading real estate firms. He has changed his firm's strategies to align with the needs and wants of modern buyers.
The shopping experience of Millennial consumers has radically changed our brokerage business. With 99% of all Millennials beginning their search online, we now design all our online channels with a mobile-first point of view.
We've created a world-class website here at Climb that caters to the Millennial shopping experience by offering a complete mobile experience. We provide lots of properties with photos, videos, and neighborhood information in an easy format. We also offer off-market inventory and new development inventory which provides our consumers with valuable local insight and access.
Brian Balduf, Chairman and co-founder of VHT Studios, a company offering marketing services specially designed for the real estate industry. He knows that great imagery can still sell a home; however, the complexity of images available has increased.
For years "curb appeal" has been the defining term in real estate when it comes to home buying and selling. But today's technology can provide a wealth of appeal to a listing or property beyond a two-dimensional image.
Home buyers of all ages need better ways to visualize a home, even before they step through the front door. Younger home buyers and sellers want to know how technology can help them make one of life's most important ​and expensive investments. So they expect listings to ​include the latest visual marketing tools—virtual staging, virtual declutter,​ virtual repaint, drone photographs or videos of the surrounding area,​ and​ interactive floor plans. This technology is helping people buy and sell homes up to 32 percent faster than average.
Check out our How to Sell a House guide to get the scoop on boosting your home's curb appeal.
Do Millennial Homebuyers Use Real Estate Agents?
With these increases in technology and communication, some real estate agents fear that their career might be going the way of the travel agent. But the agents we talked to understand the majority of Millennial homebuyers do use professional real estate services, they just interact with these entities in new ways.
Chris Lim knows that most buyers are still using real estate agents. He advises that agents can find success through specializing in particular markets, buyers, and/or home types.
92% of Millennials purchased their home through a real estate professional. They are comfortable trusting a Climb agent because we understand how they search, what they want, and how they want to live. With an emphasis on new construction and move-in ready homes, Climb's focus on urban-style housing is very relevant to this generation.
Chris Porter agrees that real estate agents bring experience and skills to the homebuying process than an app or quick search just can't match.
To appeal to this generation, [Realtors®] can really promote the personal service they can provide that maybe you can't get from an app. From a personal note: I'm in the process of buying a home right now, and am so thankful for the way that our [Realtor®] has helped guide my wife and I through the process, asked the questions we wouldn't know to ask, and helped us negotiate. I don't know that I would have the same satisfaction with trying to do it all myself on an app.
On the fence about your own needs for a real estate agent? Here's our guide to the pros and cons of using a buyer's agent.
The Next Generation of Homeowners
As their savings and incomes rise, Millennials are leaving renting behind and becoming important players in the real estate market. Understanding the needs and wants of this generation will be essential to future success for home buyers, sellers, and real estate professionals of all types. If you are ready to jump into the modern real estate market, start today and contact a Pennymac Loan Officer.
The views, information, or opinions expressed in this blog do not necessarily represent those of PennyMac Loan Services, LLC and its employees.
Share
Categories