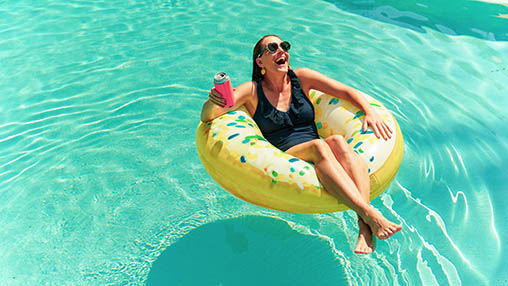 Tell me more!
I'm looking to …
Earn cash back
after close!
With Home Connect, you could earn $350 to $9,500 cash back after close.
A home is one of the most significant purchases you'll ever make and one that most people will only achieve a few times in their lifetime. Before you start shopping, you'll want to know what to do, when you should do it and what to expect along the way. If you're looking to purchase a home in the near future, here are 10 simple steps to guide you through this exciting journey.
Step 1: Decide Why Now Is the Right Time To Buy a House
The best time to purchase a home depends on several factors unique to your situation — current financial status, desired pricing, lifestyle, future plans and more. The current housing market condition is an important factor for prospective homebuyers to consider as well. While mortgage rates may not be at the historical lows they were at a few years ago, purchasing a home in this economy will help you start building equity immediately. Plus, if you're currently renting, keep in mind that inflation and economic changes typically impact rent prices as well.
If you have a down payment (as little as 3%), strong credit, solid savings and are ready to settle down in a single location for a few years, buying a house in 2023 may be the right decision for you.
Step 2: Understand Your Credit Score and How It Impacts Your Rate
Though it's possible to buy a house with cash, most homebuyers do so with the help of a mortgage. There are various mortgage types available — loans with different interest rates, down payment options and terms to consider. Your FICO score will impact the type of loan you qualify for, so getting your credit into good shape is an investment that can offer great returns.
By law, you're entitled to one free credit check per year per reporting agency, so obtaining your current score should be the first step in the home buying process. With a credit score of 720 or more, you should easily qualify for a great mortgage rate, but home loan options for those with scores as low as 580 are also available.
Step 3: Determine Your Budget
Your budget for buying a home is determined by your household finances and the market you're searching in. You may have the opportunity to settle on an ideal housing price that grants you an affordable monthly payment and a wide range of homes to choose from. To determine your estimated monthly payment amount, select a few sample home listings you like and run them through a customizable loan calculator.
Step 4: Get Pre-Screened for Your New Mortgage
Once you have an idea of your budget, it's time to find a lender and get pre-screened for a mortgage to finance your new abode. Getting pre-qualified will ensure that you're on the right track with your plans and will save you a lot of time and worry. Once you know your financing limit, you won't fall in love with a home only to realize that you can't get the loan you need to buy it.
Several steps are involved in becoming pre-screened for a mortgage, but it is a quick and easy process that your lender will guide you through. Getting this first step in the loan process completed before you start looking at homes will ensure that you are ready to make an offer (and have a better chance of succeeding with that offer) when you find your ideal home. Plus, some sellers will only consider offers from buyers pre-screened by a lender for a specific loan amount, so it's best to set yourself up for success with this important move.
If you're seeking pre-screening, consider Pennymac BuyerReady Certification, which certifies that you'll be able to borrow a designated amount without actually finalizing your mortgage. BuyerReady Certification is a great way to begin the path to your new home purchase.
Some lenders, such as Pennymac, will also allow you to lock in your home loan rate at this stage in the process. This can enable you to protect yourself from rising rates while you shop for your new home. Ask a Pennymac Loan Expert about the Lock & Shop program* and how to get started on your BuyerReady Certification.
Step 5: Find the Right Real Estate Agent and Begin Looking at Homes
The guidance provided by a real estate agent or realtor can be priceless, particularly for first-time homebuyers or those searching in an unfamiliar area. From negotiation experience to location knowledge, the right agent can successfully guide you through one of the biggest investments you'll ever make. Pennymac Home Connect** powered by HomeStory can help you connect with a top real estate agent in your area.
Despite the value they can offer, homebuyers are not required to use a real estate agent. Some buyers choose to handle the process on their own, but be sure you've done your research before opting out of this opportunity.
Now that you've done your research and prepared financially, it's time to start the fun and exciting process of looking at homes.
You will most likely start your house-hunting process with a list of must-have features. Once you find several homes that pass the first test, it's time to evaluate and compare them individually. Here's what to consider while searching.
What to look for inside of a potential home:
Plumbing: Run the showers and sinks to observe the water pressure. You should also look under sinks and appliances for leak evidence and check the age of the hot water heater.
HVAC: How old are the heating and air conditioning units? When was the last time they were serviced? Would you have to add ductwork or remove extensive old systems to install the features you want?
Exterior: What is the age, condition and composition of the roof, siding and windows? These are expensive items to replace, and unexpected issues like siding tear-off or the presence of asbestos can make them even more costly.
Electricity: Are there switches and light fixtures where you want them? Fixtures are easy to update, but running new electrical wiring in areas where it doesn't exist yet can be a much bigger project.
Appliances: Are they included in the home sale? How old are they, and how well do they work? A set of new appliances for a home, even on the low end, can run $3,000 or more.
What to look for near a potential home:
The street: Is it noisy? What about on weekends or at rush hour? If you or your guests need to park on the street, is enough space available?
Your new neighbors: How do the other homes on your potential block look? Are they updated and well-maintained? Does the neighborhood seem safe and friendly?
The location: How close is the home to your job, schools, shopping, public transportation and other important places you will need to visit frequently?
Step 6: Make Your Offer on a Home
Once you've found a house with your desired location and features, it's time to make an offer. Each home and market are different, but your agent should be able to guide you toward a reasonable offer. Not all offers are accepted on the first go-around. The seller may counter, and you may counter again in return. Once you've mutually agreed upon a price, you and the seller will be under contract, also known as being in escrow.
Step 7: Schedule a Home Inspection (and Other Tests)
The escrow period is a time for you to get more information on your potential new home, including consulting with various experts. The first thing that most homebuyers do is schedule a home inspection. During an inspection, nearly all features and systems of the home will be checked and evaluated, with both you and the seller receiving a report on the home inspector's findings. The results of these findings can trigger additional negotiations, especially if repairs or updates are needed.
Step 8: Lock in a Rate and Term With Pennymac
Most homebuyers have multiple options to compare when shopping for a mortgage. Whether your priority is a low down payment, a great interest rate, or a particular loan term, a Pennymac Loan Expert can explain the different home loan choices available and how each one impacts your monthly budget and long-term financial goals. Mortgage rates can fluctuate fairly quickly, and since no one can predict what rates will be for the remainder of 2023 and into 2024, locking in a competitive rate when you see it is a smart move.
Step 9: Get Your Home Appraised
You have already negotiated a price with the seller and completed an inspection, so why do you need an appraisal? This step of the home buying process may seem redundant, but it's essential to protect both you and your lender's investment. An appraiser uses data from comparable property sales and key features of the house you're looking to buy to determine a value for your potential home.
Because the appraiser is a member of a third-party company (not directly associated with you, the seller or the lender), their home value opinion remains neutral. This ensures that you are not paying too much and that your lender is not lending you more than the home is actually worth.
Step 10: Nail Your Paperwork and Close the Sale
Once you have fulfilled all of your lender's documentation requests, it's time to close escrow on your loan. The paperwork you'll need to complete and sign will vary based on your loan type and the location of your home. Your Pennymac Loan Advisor, agent and title company will guide you through the entire process. In most cases, people walk out of closing with the keys to their new home and step into an exciting new chapter in their life.
Get Started on the Path to Your Ideal Home Today
Ready to start the home buying process? Chat with a Pennymac Loan Expert or use one of our mortgage calculators and begin your journey today.
*Lock & Shop Program allows consumers pre-approved for a purchase loan with Pennymac to lock a rate prior to locating a property. The program requires a non-refundable fee of $595 due at the time of the rate lock. Consumers pre-approved for a purchase loan with Pennymac must meet appropriate underwriting conditions to obtain a mortgage loan. Consumers may choose between a 60-day, 75-day or 90-day lock period. Consumers must initiate a mortgage loan application for a specific property and be under purchase contract for the property at least 30 days prior to lock expiration in order to extend the locked rate. All rate lock extensions are subject to Pennymac's standard rate lock extension fees. After the rate lock and subject to favorable market conditions, consumers may be eligible for a one-time reduction in rate once the loan application for a specific property has been initiated (0.50 % maximum reduction in interest rate allowed). Eligible loan products are Conventional Fixed, Conventional ARM, FHA Fixed and VA Fixed. Program excludes Jumbo, refinance, third-party and in-process loans. Program subject to termination in Pennymac's sole discretion and without notice.
**Pennymac Home Connect is offered in partnership with HomeStory Real Estate Services, a licensed real estate broker. HomeStory Real Estate Services is not affiliated with PennyMac Loan Services, LLC, and PennyMac Loan Services, LLC is not responsible for the program provided by HomeStory Real Estate Services. Obtaining a mortgage from PennyMac Loan Services, LLC is optional and not required to participate in the program offered by HomeStory Real Estate Services. The borrower may arrange for financing with any lender. PennyMac Loan Services, LLC ( Lender NMLS 35953 ) does not perform any activity that is or could be construed as unlicensed real estate activity, and PennyMac Loan Services, LLC is not licensed as a real estate broker. Agents of PennyMac Loan Services, LLC are not authorized to perform real estate activity.
Share
Categories