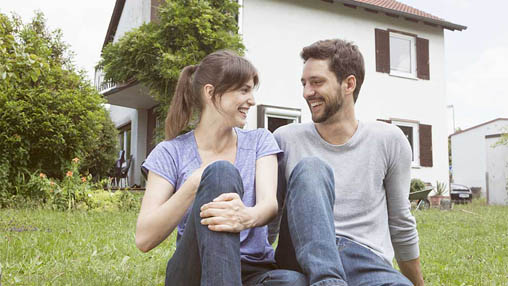 Tell me more!
I'm looking to …
Earn cash back
after close!
With Home Connect, you could earn $350 to $9,500 cash back after close.
With low down payments, low closing costs and more flexible credit score requirements, it's no wonder that nearly one in every five home purchases are made using an FHA loan. FHA loans are famous for their flexibility, but sometimes they come with requirements that both the borrower and the property owner must meet. Here's how to know if an FHA loan is the right fit for you and your unique homeownership goals.
What is an FHA Loan?
FHA stands for the Federal Housing Administration, a government agency created in 1934 by the U.S. Department of Housing and Urban Development (HUD). The FHA was started by HUD as a resource to increase homeownership in America.
An FHA loan sounds like a loan that comes from the FHA, right? This is not true — the FHA does not issue loans directly to homebuyers. Instead, they insure loans offered by private lenders. If a homebuyer can't pay for their FHA mortgage, the home will be foreclosed on. If that happens, HUD will pay off the loan to the lender and take ownership of the home. This insurance removes some of the risk for lenders, allowing them to offer lower credit score and down payment requirements. In return, more homebuyers may qualify for home loans.
Who Can Get an FHA Loan?
Although FHA loans are a relatively well-known type of mortgage, there are often misconceptions around both eligibility and overall criteria. FHA loans are most common among first-time homebuyers and low-income buyers, though other homeowners can benefit and qualify for this type of mortgage as well.
First-Time Homebuyers
Many first-time homebuyers use FHA mortgages to afford their starter home, especially because these loans offer lower down payments. Plus, the credit score for FHA loan requirements is usually lower than other loan options, which is helpful for new homeowners who have a limited credit history.
FHA loans are not restricted to your first home purchase and can only be used for your primary residence. This means homeowners generally can't have two FHA loans open at the same time. However, there are several exceptions to this rule, such as a move required for work, or your family outgrowing your current home.
Low-Income Buyers
Many low-to-moderate income buyers who don't qualify for a traditional loan or need a lower down payment option are still able to get an FHA loan. This is because the FHA allows lenders to be more flexible with potential buyers' DTI ratios, even sometimes approving up to a 55% DTI.
Requirements for an FHA Loan
If you think an FHA loan is a good fit for your needs, it's time to start taking steps towards securing one. To get an FHA loan, you will need to connect with a lender. The requirements that borrowers need to have (and understand) include:
580+ credit score with at least a 3.5% down payment
A home appraisal done by an FHA-approved appraiser
A 50% maximum debt-to-income (DTI) ratio
You must occupy the home as your primary residence
While these are some of the basic requirements, FHA loans look into your overall financial health and history. Now that you have a broad overview, let's get into the specifics.
FHA Loans And Credit Score
Compared to the required credit score for conventional loans, FHA loans are attractive to buyers for their credit score flexibility. Once you know your credit score, you can see your eligibility for various FHA loan products.
Credit scores are affected by several financial factors, such as:
If you pay your bills on time
How much credit you use (credit utilization)
The type of credit you have, whether on cards, loans, student loans, car loans, etc.
What you owe and any new credit you've recently acquired
Credit scores also affect other parts of your FHA loan eligibility, such as your debt-to-income (DTI) ratio, down payment minimums, interest rates and more. The better your score, the more flexibility there is with other requirements of the loan.
Here is the credit score needed for an FHA loan and the limits for 2021/2022:
Minimum Credit Score: Borrowers need at least a credit score of 500 to qualify for an FHA loan
Credit Score Between 500-579: Pennymac buyers likely qualify with a higher down payment
Credit Score of 580 and Higher: Pennymac buyers with a minimum credit score of 580 can qualify for the low down payment advantage, which is currently 3.5% of the purchase price
Need to estimate your monthly mortgage payment? Use Pennymac's home loan calculator to get an estimate today.
Down Payments
A down payment is a portion of the price of your home that is paid upfront. For mortgage loans, down payments are typically based on your creditworthiness, meaning the better your credit score is, the lower your down payment is. FHA loans allow you to pay as little as 3.5% for a down payment if you have a qualifying credit score. With a lower credit score, you should expect to put more like 10% down.
Though a larger down payment will lower your future mortgage payments, a primary benefit of FHA loans is getting a lower required down payment. If you are still concerned with making a 10% down payment, homeowners can use gift assistance to cover those funds as long as there is an accurate and credible paper trail.
Income Requirements and Debt-to-Income Ratios
While your income amount doesn't directly affect your eligibility, your employment history might. You will need to provide lenders with documents that verify your income, such as W-2s, bank statements, tax return documentation, etc.
Also consider that your debt-to-income (DTI) ratio will be evaluated. Your DTI compares how much debt you currently have compared to your monthly income. Lenders use this ratio to consider whether or not you can take on any additional debt. DTI includes debt you aren't actively paying, such as deferred student loans. When determining what your monthly bills are, your lender will usually apply the "1 Percent Rule" to your student loan debt. For example, if you have $25,000 in student loan debt, your lender will assume a 1% ($250) monthly payment.
If your gross income is $3,000 a month, and you have $1,500 a month in debt payment obligations, your DTI is 50%. Many lenders want you to have a DTI ratio of 43% or less, but sometimes, homeowners only need about a 50% DTI to qualify for an FHA loan. Keep in mind that a higher credit score will also lower DTI requirements.
FHA Loan Interest Rates
One of the most important elements of your home loan is your interest rate, which will play a large factor in the affordability of your monthly payment. FHA loan rates are similar to traditional loan rates because they are based on both larger market conditions and the qualifications of the individual buyer. Wondering what your options will be?
View today's FHA loan rates!
FHA Loan Limits
In addition to the limits on your credit score and down payment amounts, there are restrictions on the total mortgage amount that can be offered through an FHA loan. The FHA does have lending limits, and these numbers can differ depending on where you buy a home. Loan limits are established by the FHA and can vary by county.
Mortgage Insurance
When buyers have little invested in a home (whether via down payment or equity), lenders consider the loan (FHA or conventional) to be a bigger risk. Because of this, they typically require those buyers to pay a monthly fee for mortgage insurance, also known as private mortgage insurance (PMI). This insurance is usually required for any buyer who has a loan amount more than 80% of their home's value. For example, if your home is worth $100,000 and you have a mortgage balance of $90,000, you only have 10% in equity. Your loan is therefore 90% of your home's value and your lender will require mortgage insurance.
For an FHA loan, the details are a little different. FHA loans don't have the same standards of a conventional loan, rather, they require the following two kinds of mortgage insurance premiums: one paid in full upfront (or financed into the mortgage) and another paid as a monthly fee, regardless of how much equity you have.
Upfront mortgage insurance premium (UFMIP): This fee must be paid at closing (or added to your loan amount) and is currently 1.75% of your loan amount. For example, this would mean an extra $3,500 due at closing for a $200,000 loan.
Annual Mortgage Insurance Premium (MIP): This additional insurance cost ranges from 0.45% to 1.05% of your loan amount. The yearly cost (based on your loan-to-value ratio and loan length) is divided by 12 and paid as a part of your monthly mortgage payment. On a $200,000 loan, a MIP at 1% will add $167 to your monthly mortgage payment.
Looking to obtain mortgage insurance financing with down payments as low as 3.5%? Learn more here.
FHA Loan Benefits
In addition to expanded eligibility criteria (that makes them easier to qualify for overall), FHA loans offer many other benefits to borrowers:
Open to Buyers with a History of Bankruptcy and/or Foreclosure: A history of bankruptcy or foreclosure is not necessarily a barrier to qualifying for an FHA loan. There is a two-year waiting period after a bankruptcy, and a three-year waiting period after a foreclosure before you can qualify for an FHA loan.
Gift Money: Struggling to save for your down payment? If you have loved ones who want to help you, FHA loans accept gift money as a source of down payment or other funds. There are some limits and additional rules, so be sure to discuss your situation with your lender.
Competitive Interest Rates: FHA loan rates are comparable to conventional mortgage rates.
Credit History and Loan Eligibility: FHA loans can work for many borrowers when traditional loans can't because they have looser credit score requirements. FHA lenders will look at your complete financial picture, including your ability to pay for things like rent, utilities, auto, student loans and more.
Non-Occupying Co-Borrowers are Allowed: If your debt-to-income ratio is high, a co-borrower (and their income) can help you qualify for a loan you would not otherwise be eligible for. Co-borrowers have ownership interest and are listed on the home's title. They must sign all loan documents and will be obligated to pay the monthly payments if you ultimately cannot. FHA loans allow you to have a co-borrower who won't be living with you, such as a family member who lives elsewhere.
FHA Loan Requirements for Single-Family and Other Properties
Once you have met all of the FHA loan requirements, it's time to look at the property you want to purchase. There are certain requirements that your future home must meet as well. HUD has minimum property requirements to ensure that any home the FHA insures will be a good investment for both the buyer and the lender. Those requirements ensure the home must be:
Safe: Your home must be a healthy, safe place to live
Sound: The structure of your home must be sound, not significantly damaged
Secure: The home must be a secure investment for a lender
Types of FHA Loans
There are different types of FHA loans that range from general home loans to loans that deal with more specific needs of the borrower. The difference between loans often determines how you spend the funds and how homeowners qualify.
Purchase. Standard purchase loans fall into the basic standards outlined in the above requirements. This type of loan is best for borrowers with good credit scores and a low DTI.
Rate/Term Refinance. Refinancing is possible with an FHA loan and is a good option for homeowners who want to take advantage of the lower FHA rates, especially if their credit has been negatively affected by previous mortgages or loans.
Streamline. For borrowers that already have an FHA loan and are current on their loan, FHA Streamline loans allow those homeowners to refinance with some unique advantages. You can often get an even lower mortgage rate, a lower insurance rate, less documentation (like appraisals or income verification), no credit score requirement, etc.
Cash-Out Refinance. It's possible to do a cash-out refinance with an FHA loan, though borrowers usually need decent credit and must keep a percentage of their equity in their home. It also requires a complete documentation evaluation.
FHA 203(k) Loan. Some lenders offer either standard or limited 203(k) loans, which allow borrowers to buy a home and make renovations under the same loan. There are specific stipulations, such as a minimum of $5,000 for renovations that will be complete within 6 months.
FHA Loan Alternatives
As common as FHA loans are, it's important to remember that they are not the only option available to most homebuyers. Whether you are trying to avoid the 1 Percent Rule for student debt, want to buy an ineligible condo, or are looking for very specific loan terms, there are many situations where a conventional mortgage may be a better fit for you than an FHA loan. A credit score for conventional loan requirements will be higher, but this type of loan may meet the rest of your financial and purchasing needs. It's important to discuss your situation with your lender, and carefully compare all of your choices.
FHA Loan Final Checklist
Once you have found your dream home and have gone through the application and underwriting process for an FHA loan, there are a few final items you will need to have in order to ensure a smooth closing process.
Homeowners Insurance Policy: Your homeowners insurance will protect one of your biggest investments — your house, its contents and your loved ones. The cost of this policy will be included in your monthly payment and paid annually by your lender, so make sure your lender has your insurance information before closing.
Identification: At your closing, you will need two forms of identification. One must be government-issued, photo I.D. — your driver's license or passport are good options. The other must only have your name printed on it, such as a Social Security card, credit card, debit card or insurance card.
Title Insurance Policy: Title insurance protects you and your lender from any costs or other issues that may come from unknown liens, encumbrances or other issues with the title or legal ownership of your home.
Closing Funds: Finally, you will need the money you are using for your down payment, and any other closing costs you are paying. Talk to your lender to determine the total amount and the form (cashier's check, wire transfer, etc.) in which the funds will need to be paid.
Ready to crunch your numbers and get your questions answered? Check out our current FHA Purchase Loan Options.
Finance Your Home Today with an FHA Loan
FHA loans are used by many homebuyers every year. From more flexible qualification requirements to greater flexibility with down payment amounts, FHA insured mortgages can help you buy your first home, last home and any home in between. If you've found your dream home and are ready to buy, reach out to a Pennymac Loan Officer to get pre-approved for an FHA loan today.
Share
Categories