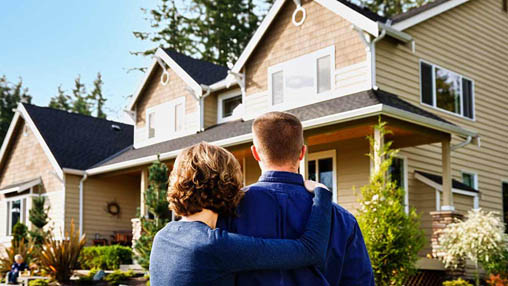 Tell me more!
I'm looking to …
Earn cash back
after close!
With Home Connect, you could earn $350 to $9,500 cash back after close.
Starting in 2015 through 2017, suburban populations have been growing faster than the cities they surround, according to a report from the Brookings Institution, reversing the previous trend. Nationwide, as the economy and the housing market improves, more people – millennials in particular – are moving out of cities and into suburban neighborhoods.
"People buying in the suburbs right now have younger kids and want a more affordable house, with a good quality of life," says Steve Laevastu, a Seattle-area agent for 32 years, where regional suburbs have boomed alongside high-tech careers, as a result of powerhouses like Microsoft and T-Mobile landing headquarters there.
"Buyers ask where will they get a better deal – buying an 800 square-foot condo in the city, or a 2,500 square foot home on a larger lot, 20 minutes outside of the city? They make decisions based on financial considerations," Laevastu says. When comparing city living vs suburban living, the cul-de-sac wins.
Who's Buying?
Young homebuyers are flocking to the suburbs. "Contrary to conventional wisdom, this generation is in the market for single-family homes in the suburbs as they look ahead to raising their families," states a study from the National Association of Home Builders (NAHB).
Primarily, millennials want the ability to buy a larger house within budget (in other words, more bang for their buck). Young buyers also want proximity to services and jobs, larger lots with more yard space for a dog or kids, better schools and public services, easy access to highways and an equivalent commute to work, according to a survey by RCLCO, a real-estate advisory firm.
When deciding between staying in a small city apartment or moving to the suburbs, young people are increasingly choosing the latter.
Suburban Home Options
While single-family homes are the most recognizable suburban home type, these neighborhoods have more variety than 30 years ago. "The suburbs have changed, and they're no longer just standalone homes," Laevastu says. "They're evolving, with some parts more dense, so if you want to buy a townhome, you can buy a townhome. Or [you can] go a couple of blocks away, and buy a large ranch-style home."
After experiencing a drop during the Great Recession, the share of new townhome construction has been rising since 2012, according to NAHB, as more people want "medium density" neighborhoods.
House architecture has changed as well. While split-level homes were all the rage in the 1970s, Laevastu says, today's buyer often seeks out open-plan spaces. Whether a brand new home or a fixer-upper, millennials are looking for homes with three bedrooms and two bathrooms of around 1,000 square feet, with flexible, multipurpose areas and good design, notes an NAHB survey.
Master-planned communities (MPCs) are also desirable when offering a mix of pricing, architecture and size, according to the Urban Land Institute. Buyers want homes with access to the outdoors (including nature trails and open space) along with features that endorse environmental responsibility.
Both millennials and older adults are attracted to MPCs featuring a "town center" of sorts, everyday retail stores and services, support for a healthy lifestyle such as parks and fitness classes, and even community farms. At the moment, MPCs are most popular in Texas, Florida, and California.
Types of Suburbs
It's easy to think of the suburbs as simply a space between city and country, filled primarily with residences, malls, shopping centers and some businesses. But the suburbs can be classified in a variety of different ways, according to a report — "Housing in the Evolving American Suburb," by the Urban Land Institute and Terwilliger Center for Housing:
High-End Suburbs
These areas are rich with single-family homes, upscale retail venues, good schools, and in-demand services and amenities. They're older, more mature 'burbs with convenient transportation to work, and filled with Baby Boomers.
Stable Middle-Income Suburbs
Economically, racially and structurally diverse, these suburbs often turn into high-end suburbs over time, as public transportation (and accessibility) improves between residential areas and downtown skyscrapers.
Greenfield Lifestyle Suburbs
New, upscale housing developments populate these relatively affluent 'burbs. They have an attractive combination of minimal congestion and access to nature, with schools and community features — though often located further from the metropolitan's core.
Greenfield Value Suburbs
The "value" here is an appealing blend of affordability and new construction, attracting first-time homebuyers. Homes are further from work and shopping, yet offer more freshly built square footage than other areas.
Economically Challenged Suburbs
These suburbs aren't growing as fast as other types, and struggle with an aging population, fewer residents, higher crime, and deteriorating infrastructure, schools and appearance.
Get Your Walking Shoes On
Whatever the neighborhood type, around 40% of American homebuyers seek walkable neighborhoods. Suburbs are meeting those demands, Laevastu says. In many places, it's possible to walk or bike to a pub or coffee shop, just a few blocks away, he points out.
However, Amazon.com has "shortened the distance" between shops and homes, he points out. Need something? With a few clicks, a new pair of shoes or bag of cat food is en route, whether you live in a city condo or in a suburban ranch-style home.
Ready to join the back-to-the-burbs movement? Start your pre-approval online or call a Pennymac Loan Officer, so you can shop with confidence. If you've already found your suburban dream home, see what your monthly payment would be.
The views, information, or opinions expressed in this blog do not necessarily represent those of PennyMac Loan Services, LLC and its employees. Further, the inclusion of links to third party sites is not intended to assign importance to those sites and the information contained therein, nor is it intended to endorse, recommend, or favor any views expressed, or commercial products or services offered on these third party sites, or the vendors sponsoring the sites.
Share
Categories