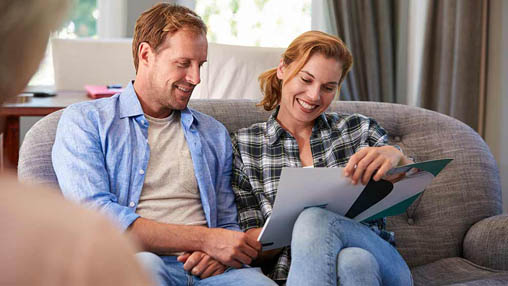 Tell me more!
I'm looking to …
Earn cash back
after close!
With Home Connect, you could earn $350 to $9,500 cash back after close.
When you're buying a house, you have more to consider than just which property to purchase. You need to learn about the mortgage process, including if and when you should apply for a rate lock.
What Is a Mortgage Rate Lock?
A rate lock, also referred to as a locked-in rate, is a guarantee from a mortgage lender to give you a set interest rate (often the current market rate) when you apply for a mortgage.
Does a Locked-in Mortgage Rate Fluctuate?
Locking in a mortgage rate is important because rates are constantly fluctuating, similar to how the stock market moves up and down. Even though the fluctuations in mortgage rates that can happen during the underwriting and processing of your loan may seem small, that change can actually be enough to cost you or save you thousands of dollars over the life of your mortgage. That's why it's important to lock in your mortgage rate. Locking in the rate can prevent your interest rate from increasing during the homebuying process.
When Should You Lock Your Mortgage Rate?
Because mortgage rate locks only last for a set period of time, you don't want to lock in too early. You'll want to make sure you can confidently move forward in the buying or refinancing process while your rate is locked. However, if you find a good rate, you certainly don't want to miss it! Consider your time frame carefully, and don't hesitate to ask your loan officer for advice. Most people lock their mortgage rate after they've signed a purchase agreement for their home or when they begin the refinance process. However, you should also check with your lender. You may be able to lock in the interest rate when you file your application, during the processing of your loan, or when your loan is approved.
How Long Should You Lock Your Mortgage Rate in for?
Rate locks last for a set period of time. Generally you have the option of a 30, 45, or 60 day period. Extensions are possible, but you will have to pay an extension fee. It is important to select a duration that is long enough to cover your loan processing period. It might be a good idea to ask your lender about their average loan processing times to help ensure you've picked a period of adequate length.
Once your rate lock period expires, you are no longer guaranteed the locked-in rate unless your lender agrees to extend it.
What Is a Good Mortgage Rate?
It's difficult to advise when you should lock your mortgage rate as they can fluctuate from day-to-day, and the mortgage rate you'll receive depends on your credit score and other factors as well. Nobody can predict when mortgage rates will rise or fall; even renowned economists and financial advisors make inaccurate predictions. The best that you can do to ensure a competitive rate is to research the recent history of mortgage rates in your area, discover if mortgage rates are rising or falling, and lock in the rate you as soon as you feel ready.
Benefits of a Mortgage Lock
When buying or refinancing a house, there's a lot of paperwork to be filled out and processed, which often takes several weeks. Because interest rates can fluctuate daily, the rate available when you started the mortgage process probably will be at least a little different than the rate available by the time your mortgage is finalized.
Since mortgages involve large amounts of money, and are paid over extended periods of time, even small fluctuations can quickly amount to thousands of dollars. By locking in your mortgage rate, you protect yourself from the possibility of paying higher amounts should mortgage rates rise.
Risk of a Mortgage Lock
While a rate lock has many advantages, it also does come with a risk. The most important one being that if interest rates fall during the lock period, you can't take advantage of the lower rate.
How Do You Lock Your Mortgage Rate?
Locking in your mortgage rate is pretty common and your mortgage lender will probably offer you a rate lock after your initial loan application has been reviewed and before it's submitted for underwriting. The actual method of locking will vary by lender, so make sure you talk to your loan officer about how to do a lock. If your loan officer doesn't mention a rate lock, you should ask for one when you are ready to lock. While you have hopefully already done your homework when selecting your lender and locking in your rate, now is a good time to check about available rate lock periods and whether there is a rate lock fee.
It's also important to know that rate lock terms can be impacted if the information provided on your application changes, such as the property appraisal, or your credit score, income or employment, or if there is a revision to the loan itself, such as length or type of mortgage.
Does Locking in Your Mortgage Rate Cost Money?
There are often costs, either hidden or plainly stated, that are associated with locking in your mortgage rate. Normally these costs are expressed by the lender in terms of points. If you do pay for a rate lock, the fee will vary depending on your lender, the loan amount, the terms of the loan, and the length of the lock-in period. The costs associated with rate locks can include nonrefundable fees, flat fees, and fees based on a percentage of the mortgage.
While a mortgage is for a set amount, the full homebuying process usually incurs additional fees and transactions. Want to know more? Find out how much a home really costs.
While some lenders offer rate locks for free, make sure to thoroughly investigate the service and rate being offered because, while there is sometimes no charge for the rate lock itself, a fee may be incorporated into the rate you're offered.
Rate Lock and Mortgage Points
When you're locking in your mortgage rate, you might come across the term "mortgage points." The more points you pay, the lower your interest rate will be. For mortgage rate locks, one point equals one percent of the loan amount.
Tips for Locking In a Mortgage Rate
Here are some quick tips to help your mortgage rate lock.
Shop around for your mortgage loan and rate lock. Different lenders have different policies, so make sure to check out their policies around locks.
Know your financial status. How's your credit score? Do you know your debt-to-income (DTI)? What's your monthly mortgage budget?
Decide the length of time you'll need. Nobody wants to spend the time and money locking in a rate only to find that it has expired before their loan has processed. Make sure you get a rate lock for an appropriate length of time.
Is a Rate Lock Right for Me?
Now that you better understand what a rate lock is, how to use a rate lock, and its benefits and risks, you can decide if and when using a rate lock is right for you. If you think you are ready, get pre-approved with Pennymac's pre-approval or apply online, or if you still have questions about a rate lock or need other expert advice on mortgages contact a Pennymac Loan Officer.
Share
Categories
buying a home fixed-rate loan interest rates loan process loan types mortgages