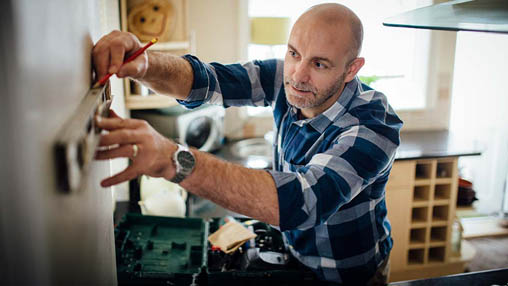 Tell me more!
I'm looking to …
Earn cash back
after close!
With Home Connect, you could earn $350 to $9,500 cash back after close.
So, you've finally found your dream house. Sure, it may need a little work — okay, a lot of work — but you're confident it will all be worth it in the end. That is until your home renovation project starts to go down the toilet (or worse, the toilet starts falling through the floor).
The rise of home renovation television shows has made many homeowners eager to transform rough diamonds into neighborhood jewels. Couple this with the improved job market and an upswing in home values, and you have a tidal wave of homeowners willing to invest in fixer-upper dwellings.
Roughly 79% of homeowners reported spending $1,000 or more on major home improvements in 2016, and about 81% of those homeowners reported paying for the projects in cash. But that doesn't mean that these projects always go as planned.
What many homeowners believe to be a simple "fixer-upper" can quickly turn in a "money pit," transforming a dream project into an expensive nightmare.
"The right fixer-upper can be a great investment and a lot of fun," says Denise Krogman, a general contractor, designer and co-owner with her husband Rob, at RDK Design and Build, LLC. "But, with every remodel there will be the unplanned, unforeseen incidentals that arise. If it needs more than a little 'fixing up' you could find yourself in the midst of a complete remodel or a total scrape."
Whether you're looking to buy a fixer-upper in the near future or are looking to remodel your current home, it's worth paying attention to what makes a house a fixer-upper or an endless money pit.
Fixer-Uppers vs. Money Pits
Admittedly, deeming a house a "fixer-upper" is a bit subjective. Generally speaking, a fixer-upper is a house that doesn't have serious problems and can be quickly and inexpensively refreshed, says Thomas Baker, building technology editor at This Old House, the classic home remodeling TV series and magazine.
"Any fixer-upper can become a money pit if spending isn't kept in line with available funds."
Yet homeowners who have a big budget, a high level of DIY skills (or the funds to pay contractors), and plenty of free time may reasonably see a house in deplorable condition as a "fixer-upper." On the flip side, homeowners who fail to properly plan for a remodel are likely to exceed their spending limit and wind up with a money pit.
Baker separates homeowners into two personas: the visionary and the accountant. A visionary homeowner is someone who is emotionally invested in their property and can tolerate higher expenditures in order to execute their "vision." He or she isn't worried about the resale value. An accountant weighs each cost of improvement against the likelihood of getting a return on investment at the time of sale.
Ideally, homeowners should strike a balance between these two extremes: taking care not to risk their financial futures with unsustainable expenditures on improvements, but also acting as a steward, putting something back into the house so that future generations can enjoy what it has to offer.
A professional home builder, general contractor, or home inspector can help a homeowner assess the condition of the home before breaking ground — and help keep a project in line once it's begun.
Fixer-Upper Red Flags
When purchasing a fixer-upper, a homeowner should always look beyond the surface, says Sarah Boardman-Miller, an interior designer and construction consultant at her eponymous firm. It's important to distinguish between homes with a lot of "cosmetic" needs, as opposed to those that need major (think structural) overhauls.
Depending on the 'fix-up' budget, one can look past a dated or poorly laid out kitchen or bath. I like a house that has not been touched. It might be dated and original everything, but these are usually good houses. Do your homework. Was the previous owner there for 40 years? Is it clean? Well kept? When most people watch the [TV] shows, so much of the process is cosmetic. From new cabinets, to counter tops, lighting and tile.
Krogman adds her team is careful about homes that need footprint changes, such as removing or adding walls or entire rooms. It's best if the changes are minor.
Often homes are simply outdated, are decorated in poor taste, or just in need of a little TLC. Cosmetic fixes can be quick and cost-effective, and completely change the look of the house.
That being said, homeowners should stay on the lookout for any red flags. Both Krogman and Boardman-Miller say foundational issues, roofing repairs or replacement, and electrical or plumbing problems may require "gutting" and send a home remodeling project into an expensive tailspin.
To avoid any surprises, it's important to invest in a thorough home inspection, says Krogman.
Always request an inspection by a highly reputable company. It's worth the extra expense. Be sure to ask a lot of questions and get documentation. When was the roof last replaced? Have there been any electrical or plumbing fixes? If there was any previous remodeling done, was it done by a reputable general contractor?
And look for cracks in the foundation, sinking sidewalks, water spots or damages in the drywall. Those fixes or changes are rarely minor and can become quite costly.
Manage Your Remodeling Expectations
One of the biggest dilemmas homeowners face when dealing with a fixer-upper is managing their expectations. Even when a home remodel is expertly planned, problems may still arise, Boardman-Miller says.
It is all about expectations and the ability to roll with what is happening. You have to focus on what needs to be done and cut out the extras that you may have been planning. Be realistic and stay on budget. If you do your homework, you could end up with a fair amount of equity in the finished house — and get what you really want.
Baker says one of the most important things homeowners can do to avoid these costly issues is research — first into the home purchase process, then into contractors, home designers, and home improvement costs.
Find a contractor/carpenter who loves to work on houses and whom you can trust to make good decisions on your behalf. Without trust, these projects can become a nightmare. Take your time. Watch home TV shows, read magazines, talk to contractors, and go to the Web to become an expert on the topic [of your remodel].
When homeowners embark on a home renovation the risks are great, but the rewards are even sweeter when everything is well planned and executed, Krogman says.
One man's junk is always another's treasure, so not only can you benefit financially, but you can give back by creating a beautiful home for your own family, or for someone else.
CHECKLIST: Tricks for Separating Fixer-Uppers from the Money Pits
Get a thorough home inspection
Determine whether improvements are structural or cosmetic
Do your research on what you'd specifically like done
Talk to your contractor/designer and get a plan in writing
Financially prepare for unforeseen issues
Manage your expectations and stay on budget
Share
Categories