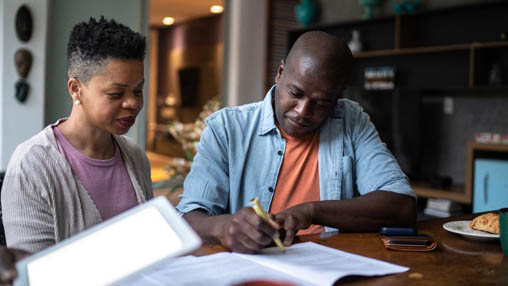 Tell me more!
I'm looking to …
Earn cash back
after close!
With Home Connect, you could earn $350 to $9,500 cash back after close.
Oftentimes, becoming a homeowner is about finding the right home at the right price. Qualifying for a loan that meets your personal and financial goals can be exceptionally challenging, especially for new homeowners who don't meet the required income amount or credit history for the loan. Luckily, a co-borrower can make loan qualification much easier.
Co-borrower meaning
A co-borrower is someone with a good credit history who applies for and shares the responsibility of a loan with another borrower. This usually means both borrowers are on the title of the loan and own the property.
For many people, co-borrowing is about combining financial qualifications and owning a home together. A co-borrower is oftentimes added to a loan if the primary borrower does not qualify due to insufficient income or poor credit history. This may be the case for new homeowners who haven't established enough credit history. In some instances, new homeowners qualify for the loan itself, but don't qualify for a reasonable interest rate. In this scenario, a co-borrower may be beneficial.
How does using a co-borrower work?
When more than one person applies for a loan, the income, debt, credit score, credit history, assets and more are examined for all applicants. As such, there are both advantages and disadvantages to having a co-borrower mortgage.
Pros
Better interest rates and lower payments. In many cases, the better your credit history, the better your interest rate options. Parents, for example, may choose to help a child lower their interest rate by becoming a co-borrower.
Higher loan amounts. You may qualify for more money with a combined income on a co-borrower mortgage.
Income qualifications. To qualify, borrowers cannot have a debt to income (DTI) ratio that's too high. Having a higher income on the loan can help you qualify.
Improve credit history. Making payments regularly and on time can bolster the credit score of both the primary borrower and the co-borrower.
Tax rebates. Joint home loans can also qualify borrowers for certain tax rebates, such as income tax regulations for borrowers.
Cons
Potential damage to credit. When done correctly, sharing the responsibility of a loan can help the borrower's credit. Similarly, the primary and co-borrower's credit will be impacted if payments are missed.
Permanent commitment. Both or all borrowers are in it for the long haul; even in the case of divorce, payments are usually equally split and both parties are responsible for monthly payments.
Co-borrower vs. Co-signer
Though co-borrowers and co-signers are related, they aren't interchangeable. A co-borrower has equal responsibility for the loan and ownership of the property.
On the other hand, a co-signer takes responsibility for the debt if the borrower defaults on the loan, but does not own the property. Essentially, a co-signer vouches for the primary borrower and agrees to pay the debt if the borrower defaults. However, the co-signer isn't responsible for making regular payments otherwise.
Cosigners have similar benefits to co-borrowers where they can help lower interest rates or qualify in general. The biggest difference has to do with ownership and monthly payments.
The bottom line
Should you use a co-borrower to qualify for a loan? For many people, this is the best way to make the most of their money, qualify for better rates, boost credit scores, and ultimately share the load of homeownership. Find out how much you can borrow today and see if a co-borrower is the best option for you.
Share
Categories