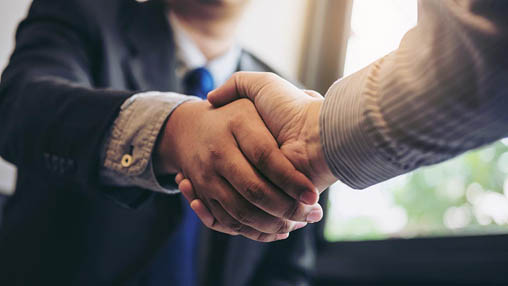 Tell me more!
I'm looking to …
Earn cash back
after close!
With Home Connect, you could earn $350 to $9,500 cash back after close.
During the homebuying process, there are typically two professionals who will assist you through it: a real estate agent and a loan officer. Most people are familiar with real estate agents, but loan officers are less well-known—especially to first-time homebuyers.
So, who are these individuals and how should you expect to utilize their services? While there are some similarities between a real estate agent and a loan officer, such as state oversight and licensing, there are many differences between these professional roles.
Real Estate Agents vs. Loan Officers
In a nutshell, real estate agents focus on the buying and selling of property while loan officers deal with the financial side of obtaining a mortgage. But let's take a closer look.
A real estate agent can help you find the perfect home and navigate the potentially confusing waters of the homebuying process. With access to lists of properties for sale and knowledge of the local real estate market, fair price values, and other location-specific information, an agent can help guide your search. Not sure where the good schools are? An agent does!
Although a real estate agent keeps up on financing options, knowing which loan is best for your financial situation falls to loan officers. A loan officer—or mortgage broker—can help you make sound financial decisions and obtain a mortgage loan. A loan officer can guide you while comparing loan products from different lenders to ensure you're getting the best rates and fair fees.
Common Roles and Responsibilities of Real Estate Agents
Real estate agents can be hired to help you sell a property (seller's agent) or find one to buy (buyer's agent). A buyer's agent's job is to help you find a home that meets your criteria, know current market prices and geographic area details, and navigate you through the negotiation and sale process. Conversely, a seller's agent works with you to get the most value out of your current home when you're ready to move.
For example, a real estate agent can inform you if a house is overpriced compared to others in the area, where the good schools are, and other insider information.
Types of Real Estate Agents
There are many different types of real estate agents, but to keep it simple here are descriptions of those most commonly encountered by homebuyers.
Real estate agent: A state-licensed salesperson who helps guide clients through the sale or purchase of properties. Most frequently, agents represent either the buyer or seller in a given real estate transaction. Agents undergo regular training, they have fiduciary responsibilities to their clients, and they must work under a broker despite being classified as independent contractors. Each state has its own licensing and standards for real estate agents to follow, though they are broadly similar throughout the country.

Real estate broker: Usually the owner or manager of a real estate agency, a broker has the same training as a real estate agent, as well as higher-level training. Some work independently, but many have agents working for them. Brokers review contracts that agents bring in, manage operations, and oversee escrow monies and other financial transactions, such as disbursing commission to agents. As with agents, states have their own standards that brokers must follow.

Realtor®: A Realtor® is the proper name for a real estate agent or broker who is a member of the National Association of Realtors® (NAR), a private organization that sets and enforces professional realty standards across the country. Members must agree to follow its code of ethics, in addition to state standards. All Realtors® are state-licensed agents or brokers, but not all agents and brokers are Realtors®.
Many first-time homebuyers ask, "Do I even need a real estate agent?" Find out if a real estate agent is right for you.
Common Roles and Responsibilities of Loan Officers
A loan officer can be a blessing when it comes to navigating the financial side of buying a home. Loan officers must go through licensing and regular training, and they must act with your fiduciary interests in mind. In other words, a loan officer is your best guide to the home loan process and obtaining the most favorable mortgage.
Don't confuse a loan officer with a mortgage lender—a company, such as Pennymac, that loans money to a buyer to purchase a property in exchange for a certain interest amount for the term of the loan. Loan officers most often work for lenders, though they may also work as independent brokers—regardless their fiduciary duty is to you, the client.
There are other ways your loan officer can help too, such as informing you on ways to increase your credit score to get better interest rates or offering down payment coaching.
Can Loan Officers Be Real Estate Agents Too?
It is possible for real estate agents to also be licensed as loan officers, in which case there are strict guidelines for the individual to follow. Some homebuyers prefer this all-in-one package, while others would rather keep the financial aspect separate. One major stipulation, though, is the real estate agent cannot originate a government-backed loan (such as an FHA loan) for his or her own client.
Don't Cut Corners
There are advantages to having both a real estate agent and loan officer, but trying to cut corners by only having one or the other may not be the best decision. For a better understanding of the loan officer's role in the homebuying process contact a Pennymac Loan Officer today.
Share
Categories