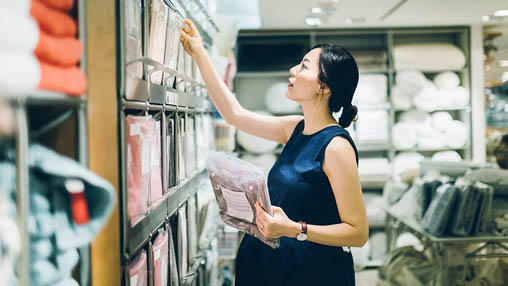 Tell me more!
I'm looking to …
Earn cash back
after close!
With Home Connect, you could earn $350 to $9,500 cash back after close.
Furnishing a home can be expensive. Maybe a new fridge is on the shopping list, or you'd like to change out rugs in the living room and replace your old furnace with a more efficient and recent edition.
One lesser-known secret: every month certain home essentials go on sale, often discounted by retailers to make room for upcoming releases or the new season's items. There's a best time to buy nearly anything if you plan in advance, so no need to stress-shop for a lawnmower in peak summer season or go without on-demand heat in December.
Here's a rundown of the best times to buy everything for your home, culled from a wide variety of online sources.
January
Furniture and Fixtures: If you need a new sofa or dining table and you're not too particular, you may be able to find decent deals before new furniture is released in February. For example, some furniture makers take 50% off discontinued items, and markdown floor samples, on the first Saturday in January. Specific retro-themed stores do markdown items that maybe way out of season or discontinued, such as lighting, hardware, shades and more.
Bedding and Towels: The "White Sale" has been an annual event since 1878, during which shoppers can pick up discounted sheets, duvets and linens. Major department stores participate, as do retailers like West Elm and Pottery Barn.
Floor Rugs: The holiday season between November and mid-December is a hot time for flooring specialists, as families prepare to welcome visitors into their homes. According to Carpet Expert and Consumer Advocate, mid-December through the end of January is when savvy rug buyers might bargain — or find a bargain.
February
Pools & Hot Tubs: Who buys a hot tub in the winter? You do, if you're looking for a good deal. The hot-selling season for hot tubs is spring leading to summer. Homeowners tend to begin remodeling projects at the beginning of spring and finish once kids go back to school, or when the cold weather hits. Some retailers use cold weather seasons as a time to clean up their inventory and prepare for new releases.
TVs: Although Black Friday is known for incredible deals on electronics, if you happen to miss out on a TV purchase there are other months in the year which may have competitive deals. January and February is when manufacturers are preparing to light up stores with brand-new TV models — offering a variety of discounts on those HDTV models you've been eyeing.
March
Heating/Cooling: If you're considering upgrading or replacing your current cooling system, know that March is a good time to buy — after the winter cool has dropped, but before people start cranking up the air conditioning, suggests Cooling & Heating Experts. Similarly, the "shoulder season" in fall is a great time to replace your furnace — before heating your home transitions from being a choice to a necessity, notes one appliance repair service company.
Garage Doors: Early spring (just after the snow has melted) is the perfect time to negotiate a garage door purchase, according to this garage-door retailer — retailers tend to offer attractive promotions to those that settle and install right away.
April
Vacuums: If spring's rains and blooms have you sneezing, a high-quality vacuum cleaner may help reduce pollen. Retailers clear out their vacuum inventory in spring to get ready for the new June models, according to The Spruce.
May
Snowblowers: Most retailers don't oversupply their stores with snowblowers, so there are fewer opportunities to acquire a deal at the end of the season. In the majority of cases, clearance happens when the new models are introduced to the market, which is around May and June, notes one snowblower dealer. Retailers get rid of any remaining merchandise to make room for summer products. You may also be able to bargain down brand-new items stocked in excess or any under-loved supply.
Mattresses: Around Memorial Day, the mattress industry is putting older models to bed before putting new models on the showroom floor — which means you can pay less for that high-quality mattress, suggests Sleep Advisor.
Cookware: May is a big markdown month for pots, pans and more, as consumers buy for the summer wedding season, according to The Spruce. Sales seem to bear this out: Foodies will find discounts of up to 50% at the Williams-Sonoma Semi-Annual Cookware Event, 75% off at Sur La Table, along with other May sales from department stores like Walmart, JC Penney, and Bed, Bath & Beyond. For a limited time you can get an amazing gift for the wedding in June you are attending and something for yourself.
June
Tools: June brings Father's Day, when big-box retailers traditionally put hammers, power drills and other tools on sale. Missed it? Check the clearance sales at summer's end. And after taking advantage of tools on sale, many put those tools to good use during the long summer days and begin DIY home improvement projects. Consider easy DIY projects to improve your home value.
Paint: Summer is a hot time for paint purchases and you can often find house paint for 20-35% off original retail prices particularly around the summer holidays (Memorial Day, 4th of July, Labor Day) when people have time to open up cans, notes a DIY expert blogger.
July
Home technology: Every July, Amazon Prime Day rewards Amazon Prime members with sales on the Amazon Echo, Fire TV streamers, home security, wireless chargers, TVs and other devices. This prompts other retail tech stores to compete, dropping prices as well.
Kitchen Appliances: That high-end fridge you spotted in the springtime may start dropping dramatically in July, according to Consumer Reports. However, if you can wait a little longer, most kitchen appliances go on sale again (and at progressively lower prices) at the end of the summer on Labor Day, then finally drop to the lowest prices by Black Friday, they note. Essentially, if you have the luxury of time on your side, you'll find deeper discounts as the year goes on.
August
Home Organization: As students prepare to go off to school, parents might find great deals at places like Ikea, where sales run from July through September. Shelving may also be discounted for around a month. In most stores, for the steepest discounts in home organization supplies, wait until local colleges or schools start — then pounce.
Grills: The best deals on grills arrive in late summer and early fall — as long as there are still grills left to buy, according to frugal living expert The Spruce. And you might find that floor models often come with the largest discounts.
September
Home décor: Over Labor Day, stores empty their shelves of warm-weather merchandise — small rugs, pillows, summer dining, bedding, and more — to make way for the holiday onslaught. Pick up next summer's punchbowl, or an outdoor rug or lounge chairs for your vacation or rental property.
Gardening supplies: Need mulch, pots, plants or other green-growing items for your yard? Now's the time to stock up for next spring, when garden stores and major retailers discount garden goodies around Labor Day and throughout September.
October
Patio Furniture: As with gas grills, October is a great month to buy a patio set, lounger or other furniture to make your patio feel like an outdoor living room (next year).
Thermostats, showerheads, and more: Before cool or unpredictable weather arrives, check out energy-saving thermostat rebates offered through a search of your utility company's website. Rebates may also be available for conservation-minded light bulbs, toilets, showerheads and other essentials. Most rebates expire by December 31, and they may or may not be renewed the following year.
November
Everything: You will find extensive discounts on almost any item this month between these two major sale events: Black Friday (the day after Thanksgiving) and Cyber Monday (the Monday following Thanksgiving). The latter is best for scoring savings on anything you'd like to acquire online, from a washing machine to a microwave to a mattress. For Black Friday, browse ads to find out what's on sale but it will probably include everything from dishwashers to cookware to bathroom fixtures.
Small appliances: Beginning in November, shops have a strong incentive to sell juicers, toasters, microwaves and more — both to boost holiday sales and to make way for next year's merchandise, according to ConsumerAffairs.
December
Windows: Given the harsh weather, Winter is usually an unpopular time for most homeowners to take on the task of installing windows, however, it may be easier to schedule a contractor in winter months, due to the low demand. This means that window companies may be more willing to bargain with you, as you'll be one of the few clients they'll see that month, according to a certified contractor.
Holiday Décor: Don't run to the store for holiday cheer at the beginning of December. Wait until your holiday has passed (think December 30 - beginning of January) — regardless of whether that's Hanukkah, Christmas or Kwanzaa — and then take advantage of lights, décor and other seasonal items at 50-75% off, everywhere from department to online stores.
So get your calendar out and plan this year's home improvement projects in advance to maximize your savings. As you can see, regardless of the time of the year, it's always a great time to renovate, decorate or upgrade the quality of your home with different items discounted throughout the year.
Prepping for your next home purchase or ready to renovate and need some cash on hand? Pennymac is always here to help you make the most informed decision on your home loan. Call us with any questions or get pre-approved to get started right away or see what your rate might be.
The views, information, or opinions expressed in this blog do not necessarily represent those of PennyMac Loan Services, LLC and its employees. Further, the inclusion of links to third party sites is not intended to assign importance to those sites and the information contained therein, nor is it intended to endorse, recommend, or favor any views expressed, or commercial products or services offered on these third party sites, or the vendors sponsoring the sites.
Share
Categories