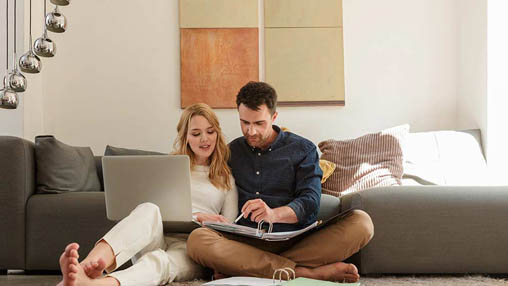 Tell me more!
I'm looking to …
Earn cash back
after close!
With Home Connect, you could earn $350 to $9,500 cash back after close.
Saving enough money for a down payment is often one of the largest barriers to homeownership. Fortunately, there are numerous ways to save and other ways to get the funds you need, like down payment assistance programs. We've pulled tips from our expert resources and industry insiders to help homebuyers get on-track with saving.
Where to Find the Funds You Need
The first place that most people look for down payment funds is to their own income and savings. Here are our expert tips and unique ideas on the best ways to save for the down payment on your home.
Roh Habibi, the founder of the Habibi Group and the star of Bravo TV's Million Dollar Listing San Francisco, has a background in finance and wealth management. He currently works in one of the most expensive real estate markets in the world. Here is Habibi's advice for where and how to begin saving for a down payment.
When saving for a down payment, short term frugality wins the battle. You need a well thought out plan of attack, with step one being: pulling up your past 12 months of bank and credit card statements. Review them and start getting really tactical about where you are spending money. You will notice you may be enjoying life a little bit too much and might need to cut out avocado toast and wine!
When you notice things that you can live without and are conscious about saving that money, plus annual bonuses from work, and gains on any investments, it will add up quickly. With thinking about [the percentage] you will need for a down payment, and how long that is going to take you to attain, you can reverse engineer and see what it will take to make it a reality.
Holden Lewis is the home expert at NerdWallet, the financial guidance site, and has over 20 years of experience in mortgages, real estate, home buying and homeownership. Nerdwallet recently conducted a survey to gain insight into how Americans in the Generation X and Millennial demographics think about down payments, how they overcome savings struggles, and what other problems might keep them from buying a home. Here are some of the ways that other potential homebuyers planned to reduce expenses in order to meet their savings goals.
Reducing your expenses involves making sacrifices. In our survey, 90% of millennials and 77% of Gen Xers said they would be willing to make some kind of sacrifice to save for a down payment.
Of the millennials, 59% said they would be willing to forgo a vacation, 42% said they'd be willing to make coffee at home rather than buying it, and 28% said they would be willing to delay having children. 18% said they would delay marriage and 24% would delay a honeymoon.
It makes sense because committing to one person, having children and buying a home tend to go together. When people delay one of those milestones, they often delay two or all three of them
Meleah Bowles is the Co-Founder of Earn Spend Live and the Co-Author of Common Cents: A Budget Workbook. She works as a personal finance educator making finances easy for everyone to understand. Here's her advice for potential homebuyers who still want to make progress on their goals after exhausting potential ways to save.
I recommend increasing your income. If you're working one full-time job, there are a few ways you can do this.
First things first: Are you eligible for a raise? If you think you might be, talk to your boss and see.
Next: Look elsewhere. Do you have a side-hustle? Look at picking up some freelance or consulting work, or even a weekend job to bring in more income. Is there something you have around that's valuable, but not useful for you anymore? Maybe you used to hunt or fish, but don't anymore. Sell that equipment and put the money straight into a savings account.
Branded Research, a leading insights and technology firm, conducted a unique poll for this article on the best ways to save for a down payment, and the results were rather revealing on how Americans view down payment savings, particularly for Generation Z, the post-Millennial generation born after 1995 or so.
Overall the poll found that about 30% of U.S. consumers think living rent free with friends or family is the best way to save for a home down payment. About 20% think that taking on a second job or side hustle is the best savings method, followed by 14% who told us that the best way to save is cutting back on extras like new clothes or technology.
Younger consumers age 18 to 24 are more likely than their older counterparts to say that taking on a second job or side hustle is the best savings method for a down payment. Younger consumers have been early adopters of the sharing economy—from Uber to Doordash to Bird. Because these young consumers are already active users of these services, taking on a side gig in the sharing economy is more likely to be top of mind.
Tips For Smooth Savings
Now that you have identified how you are going to save (or earn more) for your down payment, what systems or processes should you use to make it as easy as possible?
Wendy Ariz is a top producing agent with Warburg Realty, working in Manhattan's luxury co-op, condo, townhome, and new development real estate marketplaces. Here is her advice for structuring your savings process.
The easiest way to save is to put in a separate bank account a fixed percentage of each paycheck. For instance, immediately put aside 10% of every bi-monthly check. Additionally, if you are lucky to earn an end of year bonus, try and be more aggressive if possible with a higher [percentage], for instance 25%. There are no shortcuts to saving, but the rewards are worth it.
Jim Shagawat, the creator of Windfall Wealth™ Advisors, is a Wealth Management Principal with 15 years of experience as a Registered Investment Advisor. Here is his advice on where to keep your down payment funds, and how to stay motivated during the savings process.
If you plan to purchase the house within three years, do not risk the money by investing [in the stock market]. Rather, keep the money in a bank account or money market mutual fund. You want to avoid having your down payment subject to the short-term ups and downs of the stock and bond markets.
In addition, use personal finance software...you will easily see how trimming budget fat affects your goal of amassing a down payment. When your personal finance software shows you exactly how disciplined spending helps you achieve your goal, it's easy to avoid giving in to those little temptations you face every day. When you can see how your discipline pays off, you're more likely to stick with your good habits.
Know what type of loan you want? See how much of a down payment you really need (hint: it's not 20%). When you're ready to purchase your home, call a Pennymac Loan Officer to learn about which mortgage option is right for you. We'll help you understand closing costs and what your down payment options are. Already know the details? Apply online.
The views, information, or opinions expressed in this blog do not necessarily represent those of PennyMac Loan Services, LLC and its employees. Further, the inclusion of links to third party sites is not intended to assign importance to those sites and the information contained therein, nor is it intended to endorse, recommend, or favor any views expressed, or commercial products or services offered on these third party sites, or the vendors sponsoring the sites.
Share
Categories