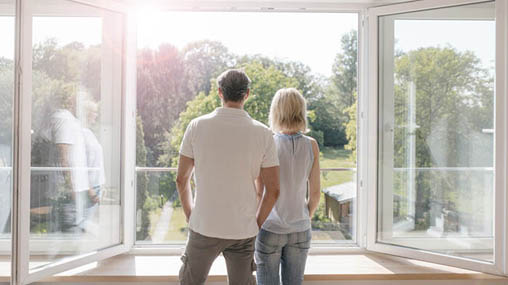 Tell me more!
I'm looking to …
Earn cash back
after close!
With Home Connect, you could earn $350 to $9,500 cash back after close.
When you've decided you want to move or buy a home, you might be wondering how important timing is. For some things in life, timing is everything. But for buying a house, timing is only part of the equation. Still, timing does play an important role in your homebuying experience and ultimately how much you might end up paying for your new house, so it's important to consider when it's a good time to buy a house.
So when is the best time to buy a house? The answer to this question includes a few parts: the time of the year, the housing market, and your own personal situation. We'll walk you through each of these parts of timing to help you figure out when the best time to buy a house for you is.
All You Need to Know About the Homebuying Seasons
The time of year can have an effect on timing for buying a house. Ultimately, you can find homes available and buy homes in any season of the year, but if you can choose when to buy a home, there are some times of the year that may be more ideal than others. So what is the best time of the year to buy a home?
Winter
Home shopping in the winter has its advantages and disadvantages. The major advantage of buying a house in the winter is that homes are usually cheaper. In addition, most sellers end up taking their listings down during the holiday season because they assume there won't be any buyers, but if you are buying, you could use that to your advantage and negotiate better prices and closing costs. Many real estate agents (who are paid in commissions) also have fewer clients and successes in the winter, so they're often willing to negotiate closing costs and fees as well. You may find home shopping in the winter to be affordable.
But winter does come with a few downsides. One is that the inventory of houses available to buy is usually much smaller. Fewer people are selling their homes, and those who are usually have to move. You won't have as many homes to choose from if you're buying in the winter. If you're looking for a home you love, winter might not be the right time. Winter can also be a difficult time to move—if you're moving to or from somewhere that gets cold or snowy. Overall, winter can be a time with fewer options, but it can be very affordable.
Spring
Spring is a much easier time to move, which comes with its advantages and disadvantages. With the warmer temperatures, houses show better with all the trees and flowers. More sellers also put their houses on the market, and there are many more options. You'll be able to choose from a much wider selection of homes than in the winter. It's also a good time to buy a house because you can prepare to move before the next school year. If you buy a house in the spring, you're then able to move during the summer and be settled in time for school to start in the fall.
Because spring can be such an ideal time to move, there is also a downside to buying a home during this season: there's a lot of competition. There are a lot of people selling their houses in the spring, but there are also a lot of people trying to buy. The competition can make for a challenging homebuying experience where you could likely get into a bidding war. So while you may have a larger chance of finding your ideal home, you may have a harder time closing on it. Be ready to move quickly on a home if you're buying in the spring.
Summer
Summer is warm, and the homebuying season is also hot. Like spring, summer comes with a lot of potential sellers looking for buyers. You can find many options on the market; but like spring, you'll need to be ready to move fast to close on a home you're interested in. Buying early in the summer can be the peak season—with the most buyers looking than other times of the year. If you're willing to wait until the end of summer, August can be a great time to buy a home. By the end of the summer, sellers will often slash their home prices down further, but you'll still find many options available on the market. Buying a house in the summer is all about timing and balancing the price and the competition.
Fall
Fall can be one of the best times of the year to buy a house. After the summer, many sellers will lower their prices and be more willing to negotiate as the demand decreases. Many sellers will want to avoid having a house on the market during the holiday season, so they'll be more anxious and ready to close. In addition, there are usually fewer buyers and therefore less competition during the fall. You're less likely to get into a bidding war and more likely to be able to negotiate, and more likely to be able to negotiate. Real estate agents also have fewer clients in the fall, so you're likely to get more out of your agent during the fall as well. You may run the risk of finding fewer houses on the market as the fall goes on, so early fall can be one of the best times during the year to buy a home.
How the Housing Market Influences Homebuying
Besides the time of year, the housing market can also have an effect on if it's a good time to buy a house. These are some of the housing market factors to consider as you determine when to buy a house:
Mortgage rates. Mortgage rates were historically low in 2021, but most experts predict that they'll go up in the following years. Keep mortgage rates in mind as you look to buy a home as it may affect how much you end up paying.
Buyer competition. Right now, there's high competition among buyers because there's a high demand for homes but a low inventory. Most homes right now are selling after less than a month on the market.
Higher home prices. Since 2020, home prices have been climbing, and it's likely 2022 home prices will continue to be higher than 2021.
To determine the best time to buy, you'll want to keep track of the local rates, interest rates, competition, and home prices.
The Best Time for You
The most important part of buying is determining if it's the right time for you, personally, to buy a home. Here are some important factors to consider if now is the righttime:
Financial Preparation
It's not the right time to buy a house if you're not financially prepared. To buy a house you'll need to be financially prepared in three areas:
Savings. You'll need to have enough money for a down payment and closing costs. The more money you have for a down payment, the lower your mortgage payments could be.
Credit. Mortgage lenders will need to check your credit before lending to you, and your credit score will need to be high enough to qualify for the mortgage you need. Usually a score in the 600s is adequate, but a score above 740 will help you qualify for better rates.
Debt. Lenders will look at your debt-to-income ratio (DTI) before approving your mortgage, so you'll want to make sure you have paid off what debt you can and that your DTI is under about 36%.
Employment Situation
Your employment situation can also affect if it's a good time to buy a house. Consider these questions about your employment situation:
Is your job secure enough to support a mortgage? Job security is a good way to determine if you can afford to make mortgage payments each month as a homeowner. If you recently were laid off, now might not be the time to take on more payments. If your job is secure, it could be a good time.
Is there a possibility of relocation? If your job could lead to a relocation within three years, you may not want to buy a house until you move. Relocating will be more difficult if you are also trying to sell your home, so if you may relocate soon, you may want to hold off on buying.
Your Personal Situation
Is now a good time to put down roots? Consider your personal goals, dreams, relationships, and plans. Are you ready to commit to living in the same location for a long period of time? You might be, and if you are, it could be a good time to buy a house. You'll want to consider neighborhoods, school districts, commute times, and more as you determine if your personal situation makes now a good time to buy a home.
The Bottom Line
Overall, buying a home is partly about the timing. The right timing is all about balancing the time of the year, the current housing market, and your own personal situation. Think the timing might be right for you? You can begin the home buying process by figuring out how much you can borrow for a mortgage. Use the Pennymac mortgage calculator to figure out how much you can afford to get started.
Share
Categories