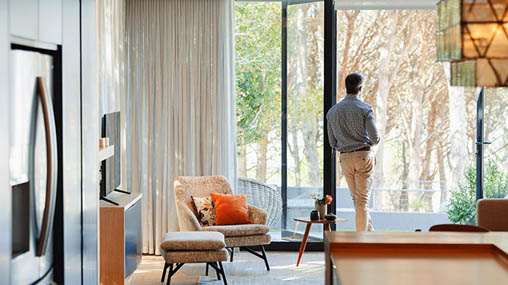 Tell me more!
I'm looking to …
Earn cash back
after close!
With Home Connect, you could earn $350 to $9,500 cash back after close.
Much like the price of gasoline, mortgage interest rates are decided based on a variety of factors. As such, these rates tend to fluctuate, even from day to day. Every morning of every business day, banks receive an updated rate sheet that they then use to help determine what kind of rates they will be able to offer. In some cases, rates may even change within a matter of hours — a rate quote that you receive on Monday morning may no longer be applicable by Monday afternoon. As such, if you're shopping for a home loan or are interested in refinancing, you need a good idea of where the market is at.
How to Get a Mortgage
Purchasing a home isn't the same as buying an appliance, or even a new car. For most property owners, buying a home is the largest purchase they will ever make. In addition to closing fees, which are often treated as a one-time, out-of-pocket cost, a mortgage generally accounts for the buyer's largest monthly expense. Getting the best-possible rates can help keep these expenses down and save you significant amounts of money over the life of your loan.
Prepare for the mortgage process by reviewing the steps involved in taking out a home loan:
Build up your credit


Your credit rating is probably the most important personal factor affecting your mortgage rates. Start building your credit early so that your lender can provide you with better rates and terms once you're ready to buy a home.

Build your savings


Although the majority of the home purchase will likely be covered through recurring payments, you will probably still need a sizable amount of money to cover the down payment and closing costs.

Check your credit score


Before you ever meet with a lender, first review your credit reports and resolve any issues or errors that might negatively affect your loan.

Research your mortgage options


Become familiar with the different kinds of home loans that are available, as well as your different lender options. Decide what mortgage term will best fit your needs: a 30-year mortgage, 15-year mortgage, or another option.

Get pre-approved


Work with the lender to determine how much they will be willing to lend you. The lender will consider personal factors such as your credit, income, and assets. The lender will provide you with an official pre-approval letter to aid in the offer process when you find a home.

Limit your home search to properties within your budget


In the excitement of homebuying it can be easy to forget about things like budgets, but staying within your predetermined price range will help keep your ongoing payments manageable.

Apply for the loan


Provide any paperwork or documents the lender requires and fill out the mortgage application.

Close on the property


Work with the lender to complete any closing documents, sign your loan agreements, and get the keys to your new home!
FAQ
How does the Federal Reserve affect mortgage rates?
The Federal Reserve includes as part of its monetary policy the responsibility for determining federal funds rates. This target interest rate helps determine how expensive it is for banks to borrow money from other banks. The higher the federal funds rate, the more banks must charge in mortgage rates to recoup their expenses.
What's the difference between interest rates and APR?
APR stands for annual percentage rate, and is the total yearly cost of the loan, including fees and the interest rate. The interest rate is the annual cost the borrower pays to borrow the money. The interest rate does not reflect fees or any other charges. Both are expressed as a percentage.
What is a mortgage rate lock?
A mortgage rate lock, also called rate protection, is an option that may be provided by a lender to guarantee a specific interest rate for a period of time, allowing the borrower to close on the property without having to worry about the mortgage rates changing.
What factors affect my mortgage rates?
There are many factors that can have an impact on your mortgage rates. These include the following.
Economic factors:
Inflation
Federal Reserve monetary policy
Rate of economic growth
Housing market conditions
Personal factors:
Credit scores
Property type
Property location
Home price
Loan type
Loan term
Loan amount
Down payment
Points and fees
Reserve funds
ABOUT OUR MORTGAGE RATES
The purpose of this page is to give you an at-a-glance view of a variety of mortgage products and a current snapshot of their respective rates. When shopping for a home loan, it can often be helpful to see today's rate quotes for a full range of mortgage products in one place for the purposes of a side-by-side comparison.
Pennymac is committed to offering its customers a wide range of home loan options to suit a variety of financial needs. Whether you're a first-time homebuyer, looking to consolidate high-interest debt or wish to invest in real estate, we offer competitive rates and term lengths that make purchasing or refinancing a home possible for thousands of customers.
If you'd like to see a more detailed quote for your specific financial profile, Pennymac also offers a customized quote tool that provides a no-obligation quote based on your exact needs. Once you've found a current home loan rate that works for your needs, get pre-approved or apply online using My Home by Pennymac.
Share
Categories