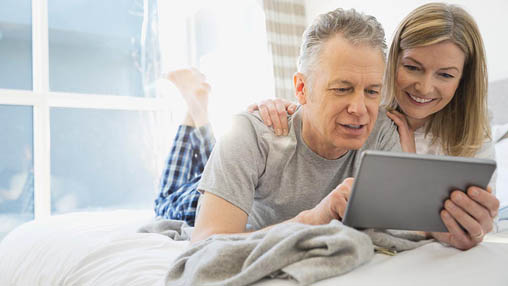 Tell me more!
I'm looking to …
Earn cash back
after close!
With Home Connect, you could earn $350 to $9,500 cash back after close.
Buying a home after you've retired can bring up challenging questions: Should I stay put, or move to a favorite vacation spot? Will living in a condo bring enjoyment or irritation? How will I pay for any of the moving and other related expenses?
These decisions can be overwhelming during a part of your life that should be enjoyable, but luckily there are numerous strategies that you can consider to help you end up with the home—and lifestyle—for an ideal retirement.
One of the biggest mistakes that people make in planning for retirement is simply not doing it. Busy with work, family, and other obligations, many individuals delay developing their vision for retirement until it is too late to take advantage of long-term strategies. Two of the biggest decisions you will need to make as you plan are where you will live and how you will pay for it, the latter of which often requires obtaining a mortgage.
Budgeting for a Mortgage in Retirement
Registered Investment Advisor Warren Ward, who currently works with WWA Planning & Investments, began his career in finance in 1991 working for a regional brokerage firm and has been in private practice since 1999. He encourages homebuyers to start their retirement housing planning by looking at two factors and how they impact one another: maintenance needs and budgeting.
We try to steer our clients toward the living situation that's easiest to maintain while also contributing to a balanced budget. Remaining in their long-time home often isn't appropriate as it could well involve multiple floors and/or more space devoted to sleeping quarters than entertaining. It's also likely to require outside home and yard work. So, buying an easier to maintain home (or condo) can make sense although we often see these replacements costing as much as, or more than, the original family home.

If we look at it more from a balanced budget perspective, a smaller home (or condo), even if it is more expensive, is likely to cost less to maintain. It's also easier to clean and there's less maintenance, both of which tend to contribute to having more time available for leisure activities—something we encourage. – Warren Ward
Mark Meyerdirk, a third-generation Real Estate Broker and a Senior Real Estate Specialist (SRES) at Washington, D.C.-based Urban Brokers, considers buying a home in retirement to be a wise idea.
Most seniors in our area have a considerable amount of equity in their homes and often own them free and clear. In many cases, my clients only use only a portion of the proceeds from their long-time home to purchase a smaller home or condo in cash, setting aside a nest-egg for travel, a rainy day, or unanticipated healthcare expenses.

In an area with constantly rising rents and cost of living, purchasing a condo in a retirement community can help hedge against inflation. It also gives seniors peace of mind that they won't be asked to move if a landlord wants to reclaim possession of their home. If you can buy a home outright, then you have very low monthly housing expenses apart from property taxes and insurance. In many cases, most jurisdictions protect seniors with limited increased or a reduced property tax rate. If seniors do need to take out a mortgage on their home, they will still have the benefit of savings from interest deduction. – Mark Meyerdirk
Tips on Homebuying Once Retired
If you have chosen the location you wish to retire to, and you're ready to start searching for potential homes, there are several important factors to keep in mind throughout your search.
Ian Atkins, analyst and staff writer for Fit Small Business, has eight years of experience in personal finance and small business lending. He encourages retirees to consider how accomplishing the tasks they need to do (and activities they want to do) can influence their home search choices.
"There's absolutely nothing wrong with buying a home in retirement. But retirees need to make smart decisions about what type of property they purchase and how they pay for that property. A well-considered purchase of a new home could easily make retirement more affordable and more enjoyable. On the other hand, rushing in without considering the very predictable changes that will occur during retirement can lead to a great deal of stress, financial and otherwise, during retirement.

We all hope to experience excellent health in retirement, but the truth is that our bodies will begin to show their age. Retirees should consider how changes in their health, energy and mobility will impact their housing choices.
How far are you willing to commute to receive the services you regularly use?
Will you need to hire people to help for basic upkeep and maintenance of your property (lawn, cleaning, etc) and, if so, how readily available and affordable is that help?
Will you be able to deal with fixer-upper projects (or will you need to hire contractors, etc)?
The point being, if you're considering buying a home in retirement, make sure you're not buying a project that you'll need to contract out. Likewise, if you're staying in your current home, make sure you'll be able to manage the upkeep without significant additional expense." – Ian Atkins
Meyerdirk has seen many clients enjoy condo ownership, for both the amenities that they may provide and for the many (often walkable) options that surrounding neighborhoods often offer.
The great thing about condos is that they're very low maintenance. With the variety of condo options in our area, you could go with the very basics or a building with all the amenities and services. Condos offer elevators and other amenities like party rooms, pools, tennis courts and fitness centers that allow seniors to continue with an active lifestyle but not have the maintenance of a large home.

With so many buildings having party/community rooms, seniors can still entertain their family and friends by reserving space for the special occasion. Also, for those condos located in the city, seniors can ditch the car and take advantage of all the neighborhood amenities from the arts to great dining, etc., all at their doorstep whether they choose to walk or use services like Uber to get around. – Mark Meyerdirk
Many seniors live on a fixed income, and staying put in the home you already own may seem like the most affordable option available to you. Atkins warns that hanging on to an older home can be hard on a retiree's budget.
The majority of retirees rely on fixed monthly income (pension, 401k/IRA, and Social Security). In retirement, it's unlikely that you'll be getting a raise, a bonus, picking up overtime hours, or getting a second job. What that means for most retirees is that there is far less flexibility in the monthly and annual budget. While there are certain expenses you can't avoid (think healthcare, etc.) there are others you can avoid.

Choosing to purchase (or hold onto) a fixer-upper or older house sets you up for unexpected expenses. Every dollar you're putting toward maintenance and renovation is a dollar that's putting extra pressure on your budget. This is doubly true if it means drawing on 401k / IRA fund more than intended as the funds withdrawn can no longer earn you a tax-deferred return. – Ian Atkins
Real Estate Strategies for Retirement You Should Use Today
If you want to make your retirement lifestyle dreams come true, it's important to lay a good foundation while you are still working. Most of us understand that we should contribute to retirement accounts but did you know that there are ways you can start buying retirement property long before your workplace throws your going away party? Jeff Hunter, Editor of Simple. Thrifty. Living., and an ardent believer in personal finance education, shares two strategies.
Purchasing a turn-key retirement property can be a great investment. If you have even a smidgen of adventure stirring in your soul, nourish it by purchasing a turn-key vacation property now for retirement later. Build memories before you move in by vacationing at your property. When you're not there, rent it out and let it pay for itself.

To enter the real estate market with less money and lower risk, you can also buy shares in a Real Estate Investment Trust (REIT). This is a type of investment vehicle in which many shareholders invest together in a number of commercial or residential real estate holdings, and these investments can take a wide variety of forms. One big advantage of REITs is that they are a liquid way to invest in real estate: You can benefit from the appreciation of property values, while being able to sell your shares anytime you choose. – Jeff Hunter
Kevin Stokes, a Realtor® in the popular retirement area of Niagara-on-the-Lake, Ontario, Canada, has bought, renovated and sold a large number of properties over the years, and has been involved in rental properties in the UK, Europe, and Canada. Here is a sample game plan that he has seen many clients use to purchase their retirement home while still in the latter stages of their working life.
For example, Mr. and Mrs. Smith have a house in Toronto they have just sold for $1.5 million. They have decided to move to Niagara-on-the-Lake and buy a bungalow for $850,000. This will give them approximately $600,000 (after costs) to live the retirement they have been dreaming of.

That same bungalow was $550,000 in 2014, but their house in Toronto was worth $900,000 in 2014. In those three years, you can argue they gained $600k on the Toronto home, and spent $300k extra on the Niagara home—giving them a net gain of $300k.

However, you could also argue that had they chosen to sell in Toronto and buy their retirement home in Niagara three years ago, that would have cost them the $300k gain so the retirement home would not have been the best financial investment.

Of course, the WIN-WIN situation, for those who can afford it, would have been to use a line of credit on the Toronto house in 2014, buy in Niagara for $550,000 and now sell the Toronto home in 2017 for $1,500,000 and have the additional $300k in equity in the Niagara house. I know of many people who have done this. – Kevin Stokes
Create the Life You Want in Retirement
Whether your last day at work is a long way off or you are ready to start buying retirement property today, the expert advice is the same: start planning now. Take the time to think about both big-picture issues like location, and small details like your daily lifestyle. Considering all of these factors will help you come up with the best plan possible for your housing once you have retired. Contact a Pennymac Loan Officer today to begin your journey to a great retirement.
Share
Categories