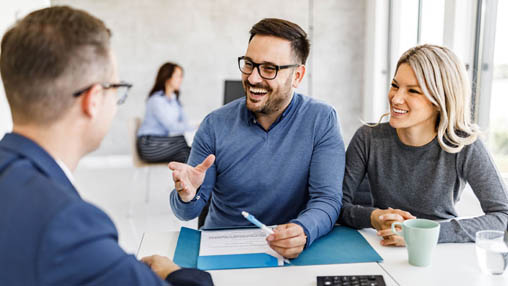 Tell me more!
I'm looking to …
Earn cash back
after close!
With Home Connect, you could earn $350 to $9,500 cash back after close.
There are many loan types available to homeowners, and each loan has its advantages and disadvantages. One loan you may have heard of is a bridge loan. We'll walk you through the ins and outs of bridge loans, how they work, the pros and cons, and who should consider this type of loan.
What Is a Bridge Loan?
A bridge loan is a short-term loan typically used to "bridge" the gap between buying your new home and selling your old one. Essentially, this type of loan is something you might get when you need to buy before you sell your old home. It's designed to give you a bit of extra cash that will help you begin your new mortgage payments while you might still own a second home and need extra help making those payments.
How Do Bridge Loans Work?
Due to the high risk associated with bridge loans, not every lender offers this type of loan. However, if your lender does offer bridge loans, you can begin the loan qualification process. Typically, bridge loans have stricter requirements than other mortgage loans because of the high-interest rates and quick repayment plans. You may need a higher credit score and lower debt-to-income (DTI) ratio to qualify for a bridge loan.
Once you qualify, you will be able to take out a bridge loan and use it to purchase a new house or make payments while you technically own two homes—until you're able to sell your old one. Bridge loans will need to be repaid much sooner than most other housing loans. Often you'll need to repay it within 6–12 months after you take out the loan.
The Pros and Cons of a Bridge Loan
Bridge loans aren't for everyone. Understanding the pros and cons of a bridge loan can help you determine if this type of loan might be the right choice for your situation—or if you should look at alternative loan options.
Pros
Extra cash flow. When you're buying and selling homes, most of your cash is strapped down, and you might not have enough cash to make down payments or cover closing costs. A bridge loan can give you some cash in hand to use for this process.
Faster than most loans. With a bridge loan, you can usually get financing faster than with other housing loans and financing options.
No contingency necessary. If you use a bridge loan, you technically don't have to sell your old home before you buy, with no contingency needed.
Cons
Higher rates. One of the biggest drawbacks of a bridge loan is that you will almost always have higher interest rates and APR than conventional loans.
Still requires a down payment. You may need to have 20% equity in your current home and be able to cover a down payment to even qualify for a bridge loan.
Financing requirements. You may need to meet a higher standard to qualify for this loan.
Limiting your lender options. Using a bridge loan can limit your lender flexibility for your mortgage for your new home. Often, lenders will only offer you a bridge loan if you agree to use it for your new mortgage. So using a bridge loan can also restrict your future mortgage options.
Bridge Loan Alternatives
Ultimately, the higher rates and lower flexibility make bridge loans a restrictive financing option. Here are a few bridge loan alternatives that are designed to increase your options and keep your rates lower and more flexible. While Pennymac only offers Home Equity Loans, we think all of these are viable alternatives to consider if you find yourself needing more financing:
Home equity loans. These loans consist of a lump sum payment that's borrowed against the equity in your existing home. The proceeds of a home equity loan can be used to help you buy a new house before selling your existing one.
HELOC. This option is a line of credit borrowed against the equity of your existing home, which often comes with much lower interest rates. A HELOC works like a credit card. You can withdraw as much as you want up to the approved credit limit.
Personal loan. With good credit and a low DTI, you could qualify for a personal loan instead. This loan could be used as funding for a new home, but may still require collateral.
These are just some of the alternatives to a bridge loan. A mortgage expert can help you determine what the best option for your unique situation is and help you get the funding you need. Compare your mortgage options today to see what would work best for you.
Share
Categories