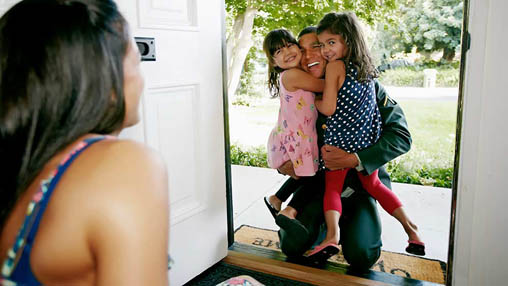 Tell me more!
I'm looking to …
Earn cash back
after close!
With Home Connect, you could earn $350 to $9,500 cash back after close.
Every day, hundreds of servicemembers exit the military and start a new life as a civilian.
Returning servicemembers have to adjust to an entirely new mindset. The structure and hierarchy of the military are often at odds with the ambiguity and freedom of civilian life, and veterans must deal with all of these changes at once. Here are some of the biggest challenges veterans face in the military-to-civilian transition (and some ways we can all help out).
Getting Back into Civilian Work
Lisa Smith Molinari, the award-winning creator of The Meat & Potatoes of Life and a military wife of 25+ years, sees how the transition to civilian life takes its toll on veterans.
I compare transitioning from military to civilian life to riding a rickety wooden roller coaster. It doesn't seem scary at first, but then you get nervous as it tick-tick-ticks up the first hill. You fall and your stomach drops into your shoes. The transition includes many highs and lows, ups and downs, twists and turns. – Lisa Smith Molinari
Companies may overlook veterans in the job search because their skills are misunderstood or they do not have corporate experience. But Dan Fazio, managing editor of G.I. Jobs, says it's important for returning veterans to understand that the intangible skills they learn in the military—like leadership, teamwork, adaptability, mission focus, and discipline—translate well into any career.
Statistics show that once veterans find their path and get into the workforce, most excel. That's why hundreds of employers invest a lot of time and money to recruit from the military pipeline. It's not about patriotism or handouts, it's about the bottom line. It's a good business decision. – Dan Fazio
Finding the Right Place to Call Home
One of the biggest challenges for veterans coming home is finding just that: a home. Active-duty servicemembers do not have the luxury of casually browsing real estate listings or dropping in for an open house on the weekend. As a result, the homebuying process can be very overwhelming when they return.
In addition, the lending process is different for separating service members. VA loans are designed to make homeownership more attainable for veterans by guaranteeing part of the loan, allowing the lender to offer lower interest rates and monthly payments.
Doug Nordman, founder of The Military Guide site and author of "The Military Guide to Financial Independence and Retirement" says veterans should be aware that they may encounter sales pressure during the homebuying process.
Don't be suckered by phrases like 'wasting your housing allowance on rent' or 'home values are rising—buy now!' In fact, there should be very little sales pressure at all. Be wary of additional discounts of promises of 'no closing costs.' Those may actually be rolled into the loan (for a higher loan balance) instead of being paid during closing. – Doug Nordman
Veterans face unique challenges in the homebuying process in comparison to civilians. Income requirements, Nordman says, can often be a hurdle for returning service members.
Make sure you're employed before you try to get a mortgage—or at least holding an employer's letter of commitment. Even a military pension (or VA disability compensation payments) may not be enough income to qualify for a mortgage. Self-employed veterans would need at least two years of tax returns to document their entrepreneurial income, and that's tough to do during active duty. – Doug Nordman
How Civilians Can Support Veterans at Home
There are plenty of ways to get involved in helping our military servicepeople transition back to civilian life. Consider getting actively involved in a veteran's life with the tips below, or find a nonprofit veterans organization to support. Here are some specific ideas on how you can help the vets in your life.
Support a Veteran in a Job Search
People close to veterans can help make the job search more manageable. According to Molinari, friends and family members can go a long way toward finding a new career path.
Connect them with employers and corporate contacts and give them recommendations. Civilians can help by facilitating interviews, vouching for veterans, and simply giving them a chance to prove that they can be excellent, loyal, competent employees. – Lisa Smith Molinari
Connect With Military Families
Building a peer network is extremely important for veterans returning home. Fazio says civilians can help by making simple connections with veterans and military families.
If you know a military family, invite them over for dinner, offer to cut their grass, or babysit the kids for an evening. Military life can be extremely hard on the families, especially when mom or dad is deployed. – Dan Fazio
Tips for Veterans to Ease the Transition to Civilian Life
The military-to-civilian transition can be incredibly difficult. Our experts provide a few tips below, but make sure to take advantage of as many transition resources as you can, and seek out local veterans' associations for help on specific topics.
Give Yourself Time to Adjust
It's perfectly normal to feel uneasy, uncertain or just plain unprepared during the transition process. As returning service members create new patterns, discover a new (or existing) passion and put down roots, these feelings of uncertainty tend to fade. But it may not happen overnight.
Don't be discouraged if your first job out of the military isn't the right fit, Nordman says, because you're not alone.
Research indicates that most veterans don't find the right bridge career on the first try. (That comes from surveys of military families by the Institute for Veterans and Military Families at Syracuse University.) Over half of veterans change their jobs (or even their career fields) within two years of leaving active duty. – Doug Nordman
Work Through the Homebuying Process Methodically
Buying a home is a huge decision, especially if you're buying for the first time. Nordman says it's crucial to take time and think through all the details before you make such a big commitment.
Veterans should make sure that they're able to stay in the home for at least five years. When servicemembers are on active duty, they're eager to someday buy their 'forever home' and they tend to move too fast after leaving the military. Of course, this also makes them more susceptible to sales pressure from [Realtors®] and lenders. – Doug Nordman
Stay Connected with Your Military Life
The transition from active service can be jarring when the military has been your life for so long. Molinari, a military wife of more than two decades, recommends staying in touch with your military life to work through the transition period.
I think it is important to maintain some connection to your old military life. Live near a base so you can use the commissary and clinic, or join a military veteran's organization. It helps to ease the transition. – Lisa Smith Molinari
Overcoming the Challenges of the Military-to-Civilian Transition
The best piece of advice for veterans tackling the transition to civilian life is to be patient. Returning home from service is a life-changing event and no one expects you to "flip the switch" back to civilian life. An all-new routine, new surroundings and new social dynamics take time to adjust to, and staying positive during the transition requires being patient with yourself.
For civilians, keep in mind there are ways to support the veterans in your life and ease the transition process. Reach out to the military families in your life and see what you can do to make life a little bit easier.
If you are returning home from active duty and looking into the home loan process, we encourage you to browse our VA Home Loan resources to learn more about the benefits available to you. If you have more specific questions about the VA loan process or homebuying in general, please feel free to contact a Pennymac Loan Officer to talk through your unique situation with zero pitches, pressure, or obligations.
Share
Categories