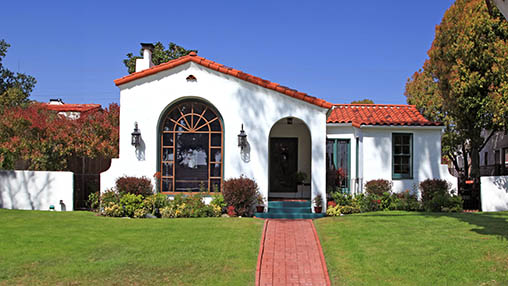 Tell me more!
I'm looking to …
Earn cash back
after close!
With Home Connect, you could earn $350 to $9,500 cash back after close.
Deciding on which type of home works best for you is a personal choice based on many lifestyle factors. Before you begin hunting for the perfect place to win over your heart and your budget, you'll want to be familiar with the terminology of home structures and architecture. Using our extensive list, you can find the perfect blend of both structure and style.
Structural Home Types
In real estate, a home's structure refers to the construction type and its main composition, including the roof and walls, and its respective relationship to other homes and the surrounding property.
The various structural options are going to offer different benefits, and depending on how many people live in the home, your preferred lifestyle and financial goals, some home types will be more appealing to you than others.
1. Single-Family Home
When someone says "we're buying a new house," most people imagine a single-family home, especially because they make up the majority of homes in the U.S. These structures are different from nearly all others in that they are detached, meaning they share no walls with other living spaces like apartments or townhomes. This offers more privacy and independence, though they aren't as common in urban settings. They vary in size and style to suit a large assortment of lifestyles and budgets.
PROS:
More personalization and freedom
You usually own the property, both the house and land
Privacy (and often more space)
CONS:
Likely limited to rural areas or suburbs
Can be expensive to own and maintain
More responsibility over the entire property
2. Semi-Detached Home
A semi-detached home is a home within a single structure consisting of two separate single-family homes, divided by a common shared wall.These units usually reflect each other, meaning they have a similar structure and style. Each housing unit has its own private and separate entrance which the other household does not have access to.
PROS:
Separate living space, usually more so than townhomes or apartments
More affordable purchase prices
Reduced maintenance with a shared lot
CONS:
Less space and independence than a single-family home
More noise and less privacy
Often need to collaborate with neighbors on changes and repairs to preserve curb appeal
3. Townhomes
Townhomes or townhouses are similar to semi-detached homes, but instead of sharing only one wall, townhomes may share a wall on both sides (unless they are an end unit). They usually use more vertical space by having multiple levels while sacrificing horizontal space by being grouped with other units. They each have their own entrance, kitchen, bathroom, and bedrooms. Like apartments or condos, they may share certain amenities such as a pool, park, pavilion, etc.
PROS:
More affordable purchase prices
Shared amenities
Less maintenance
CONS:
Limited exterior personalization (HOA restrictions)
Less privacy and more noise
Poor resale value when people outgrow the space
4. Condominiums (Condos)
Condos are similar to apartments in that they are most often units that share a building, but instead of one landlord owning and renting out the entire building, residents own their unit. Though you don't own the land, condos offer community living and minimalist living with some of the benefits of homeownership.
PROS:
Owners build equity over time without the strain of a larger single-family home
Shared amenities
More affordable prices and insurance
CONS:
Ultimately responsible for maintaining and upkeeping the property
Limited privacy and total freedom (HOA restrictions)
Can have less storage space than other home types
Architectural Styles
Your preferred architectural style can often be seen as a reflection of your own unique personality and lifestyle. You may prefer something sleek and modern, or you may want something more rustic. Many people typically want a home that falls somewhere in between those two opposing characteristics. Let's explore different styles of homes, how they originated, and their best features and highlights.
1. Cape Cod
The Cape Cod home is a well-known and popular option that many associate with American architecture and Cape Cod, Massachusetts. This style was inspired by homes built by Puritan colonies in the 17th-century. Designed to survive harsh New England winters, these simple but versatile homes can be found all over North America.
NOTABLE FEATURES:
Steep roof with small overhang
Shingles
Wood siding
Central door with symmetrical surrounding windows
2. Victorian Style
Victorian architecture is influenced by Queen Victoria and the Victorian era. These homes have ornate and detailed gothic styles, including the Queen Anne style, which is often described as having graceful curves and a storybook look. These homes often have turrets or other fun decorative elements, and older Victorian homes may be brightly colored.
NOTABLE FEATURES:
Wraparound and/or asymmetrical porches
Ornate woodwork
Steep, gabled, and irregularly shaped roofs
Two to three stories or more
3. Colonial
Similar to Cape Cod architecture, Colonial homes have a rectangular, symmetrical structure, were built for harsh weather, and even date back to a similar time period. Colonial houses also usually have at least two stories with a grand entryway and a large staircase. In current times, we see different cultural influences on the traditional Colonial style, with Georgian, Dutch, Spanish, English, French, and American variations of Colonial homes.
NOTABLE FEATURES:
Gabled roof with symmetrical slopes
Decorative crown over the door with supportive pillars
Formal appearance with central fireplaces
Main floor is dedicated to living spaces; second floor is dedicated to bedrooms
4. Ranch
The ranch style home first began appearing in America in the 1930s but gained popularity in the 1950s. They were designed to be both flexible and affordable, so rooms can be arranged in many different ways. They also tend to have one long story which takes up more horizontal space. Some variations have been popular over the years, such as the California ranch style that is shaped like an "L" or "U" to support backyard activity.
NOTABLE FEATURES:
Long structure with brick, wood, or stucco exterior
Large windows and sliding doors, often leading to outdoor spaces
Open floor plan
Low-pitched roof
5. Contemporary
Contemporary homes are homes being built today and focus on eco-friendly materials, clean lines, and neutral design palettes. Note that although the terms "contemporary" and "modern" are often used interchangeably, "contemporary" refers to the current style while "modern" tends to allude to the modern art movement, which spanned from the early to middle 20th century.
NOTABLE FEATURES:
Simple shapes and design
Neutral colors (sometimes with a pop of color)
Natural textures
6. Tudor
The Tudor style originated in England during the 15th-century when the House of Tudor reigned in Britain. The style wasn't brought over to America until the late 1800s; even then, it didn't become all that popular until the 1920s before World War II. The architecture pulls from Late Medieval and early Renaissance craftsmanship, such as stone masonry, timber framing, and steep gabled roofs, which help create the charming cottage aesthetic. Larger Tudor homes have a more majestic English manor atmosphere.
NOTABLE FEATURES:
Elaborate chimneys on wide, steep, and gabled roofs
Exposed wood framework on the exterior of the house
Stone trim and ornate doorways
Tall windows with rectangular or diamond-shaped panes
7. Cottage
If you're drawn to a cozy, personal and inviting home, a cottage or cottage-style home is the way to go. Like many architectural forms, this style originated in England, but it was designed to suit working-class farmers. This explains some of the quaint, but charming elements of a cottage. Expect smaller homes, but a lot of personality and taste from this style.
NOTABLE FEATURES:
Wood, whether in shingles or siding
Small porches and fireplaces
Individuality
8. Mediterranean
Mediterranean architecture uses Greece, Italy, and Spain as inspiration — especially their beautiful villas. This style typically features stucco, red clay roofs, and ornate, symmetrical archways to create warm, understated homes. Mediterranean styles also emphasize natural materials, particularly to encourage indoor/outdoor fluidity, which is why these homes are more popular in warmer climates.
NOTABLE FEATURES:
Flat or low-pitched tile roofs (often red clay)
Natural materials such as wood and stone
Outdoor living spaces like verandas or balconies
Large arched windows (often with wrought iron details)
9. Craftsman
Craftsman homes are a great blend of individuality, detailed furnishings, and careful construction. With an emphasis on handmade and well-designed architecture, Craftsman homes push back on cookie-cutter homes and instead emphasize unique, sturdy structures. They feature bungalow-inspired layouts that can be simple but tasteful, especially with the added touch of personality or custom-made features.
NOTABLE FEATURES:
Hand-crafted features, especially wood or brick
Exposed beams and large pillars
Low-pitched gable roofs
Customized indoor elements, like a built-in bookshelf
10. Farmhouse
The modern farmhouse style is becoming more and more popular. The most defining elements that pull from traditional farmhouses are tall ceilings, exposed beams, and a large front. Farmhouses also tend to be more rectangular and simple, but with clean, rustic-inspired decor and furnishings.
NOTABLE FEATURES:
Exposed beams, brick, or stone
Barn-shaped roofs
Modern appliances and other functions
Central fireplaces
11. Mid-Century Modern
Popularized in the mid-1950s, mid-century modern homes have a recognizable and unique style, mostly characterized by large glass windows and open spaces and floor plans. The large windows and general openness are meant to minimize the space between the home and nature. The simple, but irregular shapes of mid-century modern homes create asymmetrical features and angular structures.
NOTABLE FEATURES:
Flat, straight lines that create unique geometric roofs
Manmade materials such as steel, plywood, and concrete
Bilevel floor plans with walls of windows
Both sleek and organic design that emphasizes function
12. French Country
Inspired by the French countryside such as Provence, the French Country style uses rural elements similar to the farmhouse style to create effortless, vintage beauty. These homes have steeply pitched hipped roofs, asymmetry, and round arches above doors and windows.
NOTABLE FEATURES:
Intentionally distressed or weathered features
Pointed roofs and shutters
Vintage decor and furniture and warm color palettes
Exposed wood and use of other natural materials
Find the Best Financing for Your Home
When you find a home that supports your lifestyle and goals, and most importantly, makes you happy, you'll want to find the right financing to make it yours. Pennymac's home loan experts are here to support you from beginning to end, whether that starts with discovering how to get started on the homebuying process or learning about your home loan options. To get started on your journey, connect with a Pennymac Loan Expert today.
Share
Categories