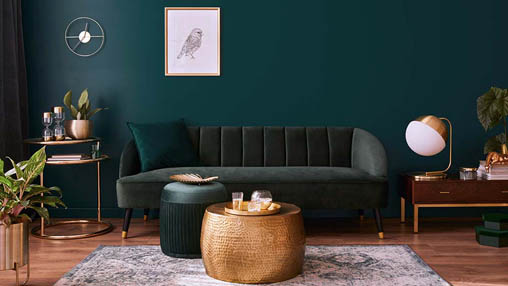 Tell me more!
I'm looking to …
Earn cash back
after close!
With Home Connect, you could earn $350 to $9,500 cash back after close.
Between stay-at-home orders and remote working, the pandemic has brought us closer to home more than ever before. And now that many of us are still spending the majority of our time at home, it's become a place where our decor dreams can come to life. So here's some inspiration and a forecast of the top 3 design trends for 2022.
1. Splash of color, anyone?
It's time to lean into landscape palettes including greens, blues and earthly tones. "Research shows that natural color schemes and organic forms like those found in nature reduce stress, lower blood pressure and heart rate, increase productivity and creativity, and make us happier," says Michelle Lamb, editorial director at The Trend Curve. "Perhaps because humanity has never needed the healing powers of nature more than we do at this moment, there is a quest to take this approach even deeper," she reflects.
HGTV predicts the popularity of serene palettes such as Pantone's 2022 Color of the Year, Very Peri, a blend of blues with a violet-red undertone that embodies "both constancy and energy, consistency and excitement."
If being tied to your home has you craving the great outdoors, you may want to dip your brushes in Sherwin-Williams' 2022 Color of the Year, Evergreen Fog. Just imagine living among a peaceful carpet of mist in the forest of the Pacific Northwest.
Looking to add some color with a twist? Add some wallpaper to your wall's wardrobe. Some of the hottest paint colors are inspired by nature, and wallpaper designs have followed suit. As Premier wallpaper manufacturer Milton and King notes, "jungle, tropical and leafy-style wallpapers" are in full bloom.
2. What's around the corner for furniture
It seems 2022 wants us to pay a little more attention to the shape of our furniture. Expect to see pieces with smoother, rounder edges that add a soft and natural look to your home.
In this article by Architectural Digest, Gemma Riberti, head of interiors at WGSN, predicts gentle curves will be a key feature in 2022, stating, "Think: radiused corners or curved backs on sofas and flared arms on chairs or bumpers on sectionals."
Meanwhile, Homes & Gardens reminds us that furniture trends are not just about shapes, they're very much about the look as "the appetite for sculptural design shows no sign of waning for 2022." Artsy pieces that offer an aesthetic and practical purpose could help transform your home into your own hipster pop-up museum.
3. Room with a purpose…or two
As the pandemic continues, spaces in our homes continue to be converted to dual-purpose rooms. For example, a home office may double as an exercise area, so you may soon be parking your exercise bike next to your laptop. A recent article by Real Simple notes that multi-purpose spaces are on the rise, such as a gym that's also a home office, and Velinda Hellen of Velinda Hellen Design observes that we now desire "multiple, separate spaces within our homes."
Timothy Corrigan of Timothy Corrigan Inc. agrees and tells Vogue, "Rooms will be designed for double duty; i.e. dining rooms walls lined with wine storage or books, guest rooms fitted with desks, bedrooms equipped with exercise equipment. As people spend more time in their homes, they expect the spaces to work harder for them."
So as the current circumstances encourage you to embrace the flexibility of your home, don't be afraid to decorate and design "outside the lines." There was a time when a kitchen was used for cooking only, dining rooms were only for eating and dens were strictly for lounging, but not anymore. Now any space in your home can have multiple functions.
While the pandemic has brought on a lot of restrictions, it has open a world of possibilities to decorating your home. These top trends give you the opportunity to be creative and reimagine the way you live. So reclaim your space, make it usable and make it yours.
Craving cash for home improvements? Put down those color swatches and consider putting your home equity to good use with a cash-out refinance to fund your designing ambitions. Renovating your home with funds from a cash-out refinance may even help you get a tax write-off for the expense of increasing your home's value.* Consult with a Pennymac refinance expert and explore your options today.
Refinancing your existing loan may result in your total finance charges being higher over the life of your loan.
*Consult a tax adviser for further information regarding the deductibility of mortgage interest and charges.
Share
Categories