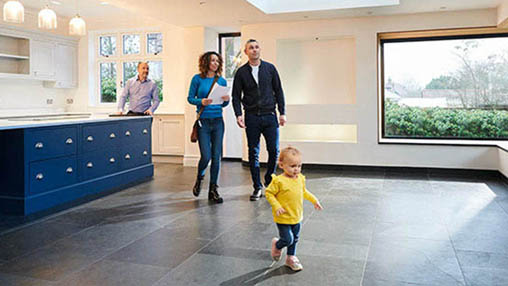 Tell me more!
I'm looking to …
Earn cash back
after close!
With Home Connect, you could earn $350 to $9,500 cash back after close.
Real estate, like many other industries, has been fundamentally changed by technology. Add in a worldwide pandemic to the mix, and technology has become the lifeline of the entire industry. New platforms and products can help you sell a home in new ways, but that doesn't mean that all traditional real estate marketing ideas have to be kicked out to the curb — the key is figuring out what works best for you and your selling agent.
Whether you are using a brand-new agent or an experienced brokerage owner to sell your home, here are five diverse strategies to include in your marketing plan.
1) Use Videos and Virtual Tours
Creating promotional videos used to be a complex, expensive process, involving hiring outside experts to manage multiple pieces of equipment. Today, most of us can shoot and edit professional quality HD video using only our phones. Marketing expert Bert Martinez has consulted with companies like Google and Remax, as well as thousands of small businesses. Here's why he thinks video marketing is essential for all real estate sales.
Using videos is the fastest way a real estate agent can stand above their competitors. Here's the deal — real estate relies heavily on visuals and humans are [visually curious] by nature. So why not give [buyers] what they want: [To get an inside look without feeling guilty or obligated!] Not to mention, homebuying-related shows are hot and that means you have a built-in audience. And the best [part] is you can recruit other professionals to be in your videos so they create the content with you for free!
Another must-have selling tool, particularly during the pandemic, is the 360° virtual tour. Product Marketing Manager at OmniVirt, Ara Parikh helps brands, publishers, and advertisers create and share 360° virtual reality content. Here is his expert explanation on how 360° virtual tours compare to traditional still real estate listing photos.
360° virtual tours enable [prospective buyers] to get a better sense of the space and feel as if they're in the property itself. When a [buyer] is interacting with a 360° virtual tour, it's as if they are in the room looking around versus trying to piece together what a room looks like from a series of photos taken from odd angles. As more and more buyers conduct online research, 360° virtual tours [provide] a better sense of scale and immersion with the property, moving them that much farther in their purchase journey.
Invest in educating potential [buyers] digitally. 360° virtual tours are one of the best ways to do so and are easier to create than you think. Buy a 360° camera, take images of each room, and use free software like OmniVirt to create a virtual tour in minutes.
2) Step Up Your Marketing With Instagram
Most real estate agents know that social media marketing is a relatively low-cost strategy that can drive huge results, but how many of those agents are using Instagram? With its considerable focus on design, decor, and lifestyle imagery, Instagram is a great match for real estate and neighborhood content. Nicolas Straut is a content marketing associate at Fundera, where he helps small businesses with content optimization and distribution. Here's why he thinks Instagram is the social media platform that real estate agents can't ignore.
The top marketing strategies that real estate companies should implement are organic and paid Instagram marketing strategies. Instagram is the best social media channel for the visuals of real estate and is the second most popular platform among U.S. adults. By encouraging individual agents to develop their professional Instagram presence or even to create a company-specific profile, you can expose local Instagram users, who may be interested in a home or apartment, to your offerings through organic posts, stories, or paid ads.
Through Instagram's diverse video options, you can offer virtual tours of your [property], even adding the personality of…your agents if they're dynamic and willing. Through image slideshows and ads, you can display the most picture-perfect images of properties and use effective local or popular real estate hashtags to expose images to a wider audience.
Gone are the days of bench ads, now that you can organically connect to an interested buying audience or target potential buyers with beautiful real estate visuals, whether taken professionally or even with a high-definition smartphone.
3) Don't Ignore Traditional Strategies
With all of the emphasis on digital efforts, many real estate agents can forget about (or be unaware of) effective traditional marketing strategies that drive valuable word-of-mouth referrals. Many of these methods are affordable, requiring an investment of a little more than your time and knowledge.
Tammy Duggan-Herd is a psychology researcher with an interest in digital marketing because of its data-driven approach. Using her understanding of consumer behavior, statistical analysis and research methods, she is the Director of Marketing for her agency Campaign Creators. Here are three of Tammy's favorite traditional marketing methods for real estate agents.
Community Service — [Your agent can] consider sponsoring local events, such as park fairs or school concerts; volunteer or help organize charity events; or give presentations on topics of expertise at a community college.
Newsletter and Magazine — [Real estate] newsletters are an excellent way [for your agent to get] information out regularly to subscribed leads, offering insight on interest and mortgage rates alongside your best listings. Also, [they] can create a community magazine with information on upcoming events alongside helpful real estate information and industry statistics.
Postcards, Business Cards, Flyers — [Your agent can] consider putting print to paper: "Just listed" and "just sold" postcards, business cards, even the occasional flyer can serve as attention-grabbers, particularly for older homeowners. Though this is more of an old-school way to market and advertise…its authenticity still works.
4) Have a High Quality Website For Your Listing
Now that you have lots of high-quality videos, 360° tours, Instagram traffic, and leads from traditional marketing activities, what should your next step be? Make sure you or your agent creates a webpage dedicated to your home's listing. This is a great way for real estate professionals to share original content, nurture leads, and allow buyers to have anytime, anywhere access to your listing.
Not sure where to start? Dana Bull is a full-time real estate professional who began investing right out of college. She has a particular interest in working with young buyers, providing coaching, mentorship and buyer agent representation. Here are Bull's top ideas for putting together an interesting, effective, and professional real estate marketing website.
You can't be all things to all people. It can be helpful to establish a niche and become an expert in a certain area. A niche could be a geographic area or clientele (such as first-time buyers, relocation specialists, or investors). Having a niche helps to guide all the marketing efforts that follow and makes it easier to target and justify initiatives.
Also, image and brand consistency [are] important. This includes making sure all the collateral is not only professional, but that proper colors, fonts and images are being used correctly. A "brand identity guide" helps to lay everything out.
Finally, content marketing is underutilized in real estate, but has proven to pay dividends across many other industries. Boilerplate content is rarely effective, but creating your own blogs, guides, and videos that are compelling to your target audience is one way to gain trust and a following.
5) Remember That Consistency Is Key
Our final real estate marketing strategy can be applied to all of the ideas listed above, and any other promotional efforts that you undertake: Be consistent. Most marketing efforts take time to show results, and quickly implementing and abandoning strategies is usually a waste of both your time and money.
Entrepreneur, business owner, author, keynote speaker and philanthropist Joy Gendusa is the Founder and CEO of PostcardMania, an industry leading marketing company specializing in lead generation for businesses of all sizes. Gendusa advises real estate agents to think long-term with their marketing efforts. Forward these tips along to your agent, or consider these for your own home selling efforts.
My #1 marketing tip for real estate professionals is to be consistent. I'm talking 365-days, 12-months-of-the-year consistent — and on multiple channels. In an extremely competitive field like real estate, you have to continually put your name and brand out there, and you have to play the long game. That way, when people are finally ready to [buy or] sell their home, you're the one they think of.
My company, PostcardMania, has worked with 14,771 clients in the real estate industry, and the most successful agents and brokers are the ones with revolving campaigns. They cycle through six months or 12 months of postcards at a time, and run right through to the next year without pause. That's how [they build] a reputation and brand trust!
Bull agrees that real estate agents need to embrace focus and consistency in order to succeed with their marketing efforts.
When it comes to marketing, I have found that quality over quantity is a good methodology. It can be easy to spread yourself too thin trying to cover many areas while experimenting with different technology and approaches. Instead, I try to focus on a few quality pieces or initiatives each year that I am proud to put my name on.
Finding the Marketing Ideas That Work For You
From becoming a social media influencer to lending a hand at community events, what nearly all of these strategies have in common is that you are creating connections with prospective buyers in a helpful way. When you focus on giving people consistent, accurate information your marketing plans will be successful, no matter which tools you choose to employ.
Once you sell your home, your next project may be to start looking for a new one yourself. Be sure to prepare for that exciting undertaking with a home purchase loan pre-approval. Not only does it give sellers the reassurance that you are financially capable of buying your home of choice, it also lets you know the parameters of your own home shopping budget. Hear about your options with a Pennymac Loan Officer today.
The views, information, or opinions expressed in this blog do not necessarily represent those of PennyMac Loan Services, LLC and its employees. Further, the inclusion of links to third party sites is not intended to assign importance to those sites and the information contained therein, nor is it intended to endorse, recommend, or favor any views expressed, or commercial products or services offered on these third-party sites, or the vendors sponsoring the sites.
Share
Categories